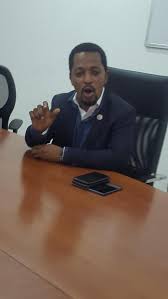 Oluwasegun Mutairu Musa is not an ordinary Nigerian. He is an accomplished international business man of no mean repute. He has through his business proved himself to be an astute manager of men and resources. He is the gubernatorial candidate of the Advanced Nigeria Democratic Party (ANDP) in Lagos State. Musa was the guest at the regular roundtable organised by the umbrella body of maritime journalists in the country, the Maritime Reporters Association of Nigeria (MARAN). Maritime Bits Editor-in-Chief, John Iwori was there. Excerpts
Background
I am Oluwasegun Mutairu Musa. I am presently contesting for the governorship of Lagos State on the platform of the Advanced Nigeria Democratic Party ANDP. I am a seasoned technocrat, a tactical unionist and consummate maritime and aviation practitioner with three decades of expertise spanning several sectors of the economy. I am presently the Group Managing Director and Chief Executive Officer (CEO) of Widescope Group, an international group of companies spanning logistics, media, construction, travel and tours, aviation with offices across three continents of the world.
Inspiration into Politics
I joined politics to enhance and foster initiative governance and liberate citizens to know their rights under a civil government, be able to challenge myopic thinking leadership with cosmetic projects that does not add any value to the lives of the citizenry. I am into politics to discourage the mind-set that public office is a money making venture. Moreover, I am inspired into politics to be in a vantage position to be to make the citizenry, especially Lagosians to embrace genuine good governance and sustainable development in all aspects of life.
Winning the Hearts of Lagosians
By making my manifesto that addresses all basic needs as household document that Lagosians can take ownership of.
Righting the Wrongs
We are sitting on a gold mine in Lagos State but we do not know. Our water resources are untapped. For instance, we ought not to be importing fish in Lagos State. We ought to be having traffic gridlock if the government put the waterways into effective use. In fact, it is our inability to effectively utilise our God given natural resources that has made us the laughing stock around the globe. This is because other people, especially in the Western world see us as a bunch of lazy and unserious people. This is not unconnected with the fact that government has failed woefully to provide the enabling environment for businesses to thrive. It has failed to encourage private investors to lead the way in the maximisation of our huge water and blue resources.
What I am bringing on board
I want to bring back a government that understands the needs of citizens as well as the challenges and be ready to bring lasting solutions that will effectively address them. We are bringing on board a government that understands the peculiarities and challenges of megacity and can effectively address it with a mind-set of turning them to meet international standard metropolitan economy city. We are going to give 100 percent autonomy with value added back to the local governments. We are going to develop our green economy as well as the blue economy. We are going to build capacity, creating jobs and enhancing employment opportunities within the public and private sectors. We are also going to provide a genuine low cost housing and infrastructural developments, as well as the developments of sports and entertainments. When elected into office by the grace of God, my cabinet would give genuine attention for the people living with disabilities, creating a friendly environment for the old, improvements on the security strategy beyond the state access confines, standard primary health centres in every wards, and general hospitals in every local government areas. We would also give support for business clusters groups and creating a business friendly Lagos State, among other things.
Why the ANDP platform
The ANDP is a new political party without godfathers or unhealthy interference. I can categorically tell you that our party is a platform that encourages you to bring out the best to the table. It is a political party that is bringing hope to the hopeless and the downtrodden in the society.
Reasons I left APC
I am a founding member of the ruling All Progressive Congress (APC) but I left because the party has been hijacked. The party does not conduct any free, fair and credible election. It lacks internal democracy. Its leadership prefers to do 'arrangement' and unfortunately, the 'arrangement' did not favour me.
Take on the Present Government
The present government is not responsible and responsive to the yearnings and aspirations of Lagosians. That is why we are teaming up with other political parties to bring the desired change in Lagos State. When my government comes on board, I will ensure that there are health facilities at the reach of the citizenry. This is because we understand that many Lagosains have lost their lives in the process of getting medical attention. I will bring back night life to Lagos State. Businesses will run 24 hours. We will reduce tuition fee by 50 percent. We will change the present way we are currently handling environmental sanitation in the state. For instance, the present arrangement where a PSP contractor will have only one or two trucks but claiming money for 10 or more trucks will not be allowed in my government.
Intermodal Transport is Way to Go
As far as I am concerned, intermodal transport is the way to go in our quest to address the challenge of poor traffic in Nigeria, particularly in a city like Lagos. This because of our over concentration on one mode of transport, especially road has remained a major drawback. In fact, intermodal transportation is what makes the difference in cities like New York, Paris, London and so on. Transportation is like the heart of a human being. When the heart fails to pump blood to other part of the body, that part will fail to function. Therefore, when transportation fails, health will fail. The economy and every other thing will fail. That is why we must not treat transportation with kid gloves. Therefore, my government will give transportation the desired attention when I take over the reins of administration in Lagos on May 29, 2019 by the grace of God.