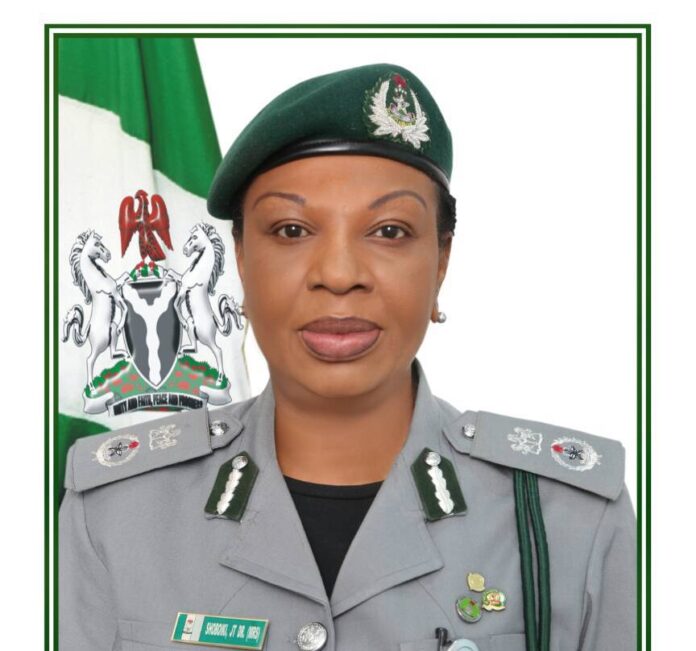 The first female Customs Area Controller (CAC), Murtala Mohammed Area Command (MMA), Ikeja, Lagos, Comptroller (Mrs) Jane Thompson Shoboiki has resumed duty with a charge to officers and men of the command to brace up for the task ahead.
Reviewing her inaugural parade with officers and men of the command, she charged them to sit up and stay focused on their statutory roles and responsibilities.
A statement signed by the Public Relations Officer (PRO) of the command, Mr. Ephraim Haruana Joseph quoted Shoboiki emphatic on the need to meet the command's revenue target.
She maintained that it was a task that must be accomplished in line with the presidential mandate given to the Comptroller General of Customs, Colonel Hameed Ibrahim Ali (retired).
While stating that reform and restructuring of the service was being implemented, the CAC stressed that she will not condone indiscipline.
Her words: "I will adopt the carrot and stick approach but I will not hesitate to drop the carrot and use the stick unsparingly to revenue generation risk officers".
She charged all head of units/sheds to rise up to their responsibilities and warned that she will not accept excuses.
"As heads of units or sheds or anywhere else you work as head, you must take charge because I will hold you responsible for whatever happens", she declared.
While tasking officers on the need to be disciplined and professional, she also enjoined them to dress properly always as failure to do so would attract sanctions. She told her officers that acts of lateness or absenteeism from work are act she has no patience with.
She urged all officers to co-operate and work together as one family in order to achieve the expectations of government and ensure that Nigeria prospers economically.
Meanwhile, the CAC has received the Senate Committee on Customs and Tariff. The committee was at MMA Command on oversight function and inspected the Government Warehouse of the Command.
Chairman of the Committee, Senator Hope Uzodimma, said the visit was in accordance with parliamentary procedures and in tandem with the rules of the Senate.
Uzodima enjoined Customs to do more in the area of revenue generation to enable government meet its numerous national obligations.
The new CAC has also gone round to inspect the sheds in NAHCO, SAHCO and DHL where she implored all officers to be on their toes and do their duties diligently.
She used the occasion to call for the immediate inspection of some consignments which were waiting for examination just as she ordered that a consignment for export be withheld to confirm proper documentation.
She has also met with the critical stakeholders and representatives of the Association of Nigerian Licensed Customs Agents (ANLCA) and National Association of Government Approved Freight Forwarders (NAGAFF), airline operators and terminal operators.
She charged them to be compliant and avoid false declarations/concealments, even as she warned that she will not take kindly to infractions in any form.
"I am here to support the CGC in achieving his revenue drive. This is imperative as the Federal Government strives to diversify the economy. We must work very hard to make sure we surpass our revenue target. It will be to our credit to achieve this task. I know we can do it", she said.
The stakeholders in their response pledged their support and agreed to work with the CAC so that the revenue target of the command will not only be met but surpassed.
Besides degrees in Law and Public Administration, Shoboiki who was born in the Cross River State, capital, Calabar also has a master degree in International Relations.
She joined the Nigeria Customs Service (NCS) in April 1989 as an Assistant Superintendent of Customs I (ASC I) and had her basic training at Customs Training College, Ikeja, Lagos. She has served in several NCS formations including Customs Headquarters, Abuja.
The CAC is married to serving General in the Nigerian Army, Major General Joseph Shoboiki and they are blessed with children.