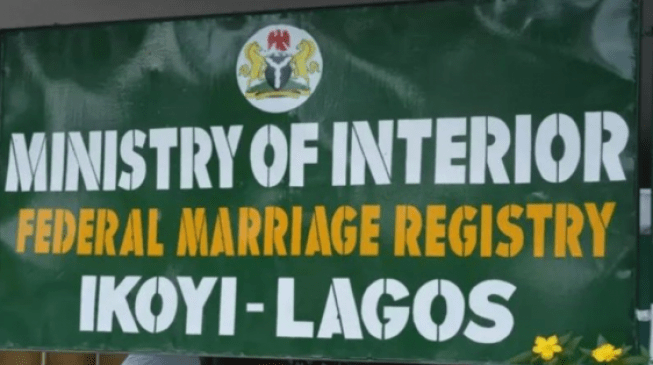 *Ministry of Interior Says Facility Remains Operational
The Federal Government and the Lagos State Government in spite of being controlled by the same political party, the All Progressives Congress (APC) are fighting dirty over popular Ikoyi Marriage Registry, Lagos.
This is coming barely five days after a Federal High Court sitting in Lagos declared that the popular Ikoyi Marriage Registry preferred by the high and mighty in the society shut it down.
In a statement obtained by Maritime Bits the Federal Government declared that there was a misinterpretation in last Thursday ruling given by a Federal High Court in Lagos to the effect that the popular Ikoyi marriage registry has been shut down.
It said contrary to the earlier interpretation, Federal Government maintained that the Federal High Court never ordered the closure of Ikoyi Marriage Registry.
According to the Director of Legal, Ministry of Interior, Bola Odugbesan, it countered that the court presided over by Justice Chuka Obiozor, simply upheld the judgment of a Federal High Court since delivered in 2002, but which none party appealed.
The statement was reaction to a press release issued Thursday by the Director, Public Affairs, the Lagos State Ministry of Local Government and Community Affairs, Bisi Olufuwa.
The Interior Ministry claimed that Lagos State had secured a court injunction restraining the Ikoyi Registry from conducting marriages for the willing members of the public.
The statement recalled that the case, Suit Number FHC/L/CS/1760/16, between Egor Local Government Area, Edo State and three others Vs. Ministry of Interior and others, cited by the Lagos State Government, was quashed by Justice Obiozor in his judgment delivered on April 30, 2018.
"In the case, the court was invited to interpret the provisions of the constitution conferring on local governments the powers to register marriages. Under item 61 of the Exclusive List, matters connected with marriage under the Marriage Act, issuing of marriage certificate and its registration are outside the purview of state and/or local governments.
"The Federal High Court in its judgment dated April 30, 2018, struck out the case of the plaintiffs, i.e., Egor Local Government Area and Others. The court held that the case is an abuse of the court process in view of the earlier judgment of the court in 2002, which upheld the sanctity of the rights of the minister to issue licences to places of worship to conduct marriages, and the registrar under the Marriage Act to register marriages. It is instructive to note that Lagos State was not a party in the case", it added.