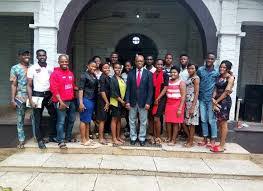 A private Christian tertiary institution, Paul University, Awka, Anamabra State has honoured the Managing Director and Chief Executive Officer, Air Sea Freighters Limited Sir Enoch A. Iwueze with its Friendship Award for his contributions towards the growth of the Institution.
The honour which was bestowed by the National Council of Knights came as the institution held its third convocation ceremony.
The ward by Paul University is in collaboration with the National Joint Council of Knights (JCK) and this is the maiden edition whereby some Knights were selected and Iwueze was privileged to be among.
While appreciating the honour, Iwueze suggested that the award should not be a yearly affair rather biennial or triennial in order to give it the impetus it deserves, which should be a motivation to the Knights so selected and for it to be well appreciated.
At the convocation lecture, a former Minister of Information and Culture, Professor Walter Ofonagoro, while speaking on the theme, "The Imperative of Restructuring the Country for Greater Stability, Peace and Progress", traced the major causes of the nation's problems to foundational problems orchestrated by military rule and recommended the production of a new constitution that must reflect fiscal federalism as practised in advanced democracies of the world.
The Vice Chancellor of the Institution, Venerable Professor Uche Isiugo-Abanihe said the institution was holding its third convocation ceremony in eight years of its existence and currently runs degree programmes in the Faculty of Arts, Management and Social Sciences as well as Natural and Applied Sciences.