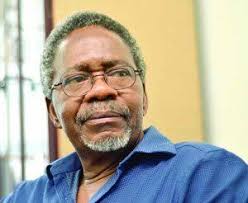 Erudite law lecturer, Professor Akin Oyebode has been appointed to represent Nigeria in the International Observer Mission to the upcoming November 7, 2018 presidential elections in Madagascar.
Expected to be a keenly contest, the election has no fewer than three dozen candidates, including the incumbent, President Rajaonarimampianina, three former presidents namely Didier Ratsiraka (1975-1993 and 1997-2002); Marc Ravolamanana (2002 – 2009); and Andry Rajoelina (2009 – 2014).
Other contestants are politicians, retired military officers, and business people. These include three former Prime Ministers namely Jean Ravelonarivo (2015-16), Jean Omer Beriziky (2011-14) and Olivier Mahafaly (2016-18).
Besides five women, a pop star, Dama and a clergy, Pastor André Mailhol are also running for the coveted position in the African country.
A statement made available to Maritime Bits by one of his close associates, Jerome Okolo said Oyebode obtained LL.M in International Law from the Kiev State University, Ukraine in 1967 with the highest distinction and returned to Nigeria in 1973 and joined University of Lagos as an Assistant Lecturer.
In 1974, he was admitted to the Harvard Law School, Cambridge, Massachusetts, obtaining another LL.M in 1975.
He subsequently went to the Osgoode Hall Law School, York University, Toronto, Canada, the largest and leading law school in Canada, earning the Doctor of Jurisprudence in 1988, having specialized on the Law of Treaties.
In 1991, he was appointed Professor of Law and founding Dean of the Faculty of Law of the former Ondo State University, a position he held until 1997 when he returned to the University of Lagos.
Two years later, he was invited to be the pioneer Vice-Chancellor of the University of Ado-Ekiti and upon the completion of his term in 2004 he once again returned to the University of Lagos, where he has been occupying the Chair of International Law and Jurisprudence. He is also the Chairman of the University Office of International Relations, Partnerships and Prospects.
Oyebode has no fewer than 7 books to his credit and monographs and over 200 learned papers.
He has been an assessor for professorial appointments and external examiner to many universities at home and abroad and is a member of the Board of Directors, African and African-American Foundation on Science, Education and Economic Development (AFSEED) Incorporated, New York; Centre for Advanced Social Science (CASS), Port Harcourt; Chair of the Board of Trustees, Women Advocates Research and Documentation Centre (WARDC); Chair, International Advisory Board, Institute of Human Rights and Humanitarian Law; Consultant, UN Office for Outer Space Affairs, Vienna; and the former Chair, Catholic Secretariat Think-Tank.
Oyebode was recently appointed a Consultant by the African Union (AU) and charged with the task of drafting the Convention on Cross-border Cooperation in Africa.
Besides being a Fellow, Nigerian Association of International Affairs and the Nigerian Institute of Management (Chartered),Oyebode is a member of the following bodies namely, Governing Council, Nigerian Institute of International Affairs; Governing Council, University of Lagos; UNESCO List of Mediators and Conciliators; Board of Trustees, Obafemi Awolowo Centre for Philosophy, Ideology and Good Governance; and the Steering Committee, Ekiti Knowledge Zone (EKZ).
Oyebode who was also a delegate to the National Conference in 2014 has won numerous awards including the first foreign graduate to be inducted to the Permanent Roll of Honour of Kiev State University; National Association of Democratic Lawyers (NADL) Distinguished Jurist Award; Best Law Lecturer, Final Year Students, Faculty of Law, University of Lagos (5 years running); Outstanding Law Teacher, Justice Chambers, Obafemi Awolowo University; and the Role Model Award, Leadership Watch.