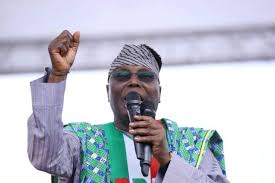 The Igbo community in Bayelsa State has declared their resolve to galvanize support for the People's Democratic Party (PDP) candaidate, Alhaji Atiku Abubarka, ahead of the 2019 general election.
Leader of the community, Chief Chinedu Maurice Amaku who made the disclosure in Yenagoa at the end of a meeting he held with executive members of the community said their interest in Atiku's candidature was aroused by the quality of manifesto he presented to Nigerians, which according to him was a clear proof of the PDP's readiness to carry various geo-political zones and ethnic nationalities along, if given a fresh opportunity to lead Nigeria again.
"We as Igbos have endorsed Atiku during his maiden visit to Bayelsa in June this year and since then, we have prayed, hoping that during the party's primary he should emerge the PDP Presidential flag bearer and as God may have it, he won. Now that he has won, we on our part have serious roles to play in order to deliver bulk votes to him. This is because we understand what it takes for a man to win election. There is no doubt Atiku as a person has the necessary quality and capability to win the election next year.
"All the Igbos in Bayelsa is for Atiku and to work out the talk, we have put machineries in motion, mobilizing our people. I can tell you from our analysis of the politics of Nigeria, coupled with challenges facing the nation, we have listened to the manifestos of all the aspirants, and there is no going back from the choice of Atiku as the right person.
Amaku further blamed the present ruling All Progressive Congress (APC) for what he described as its negligence and oppressive leadership that has led the country to ruin, and maintained that Ndigbo have critically examined the political discord as well as bad economy, insecurity especially the surge of ethnic and religious violence, corruption and the winner –takes –it all attitude of present government, therefore submitted that Igbos have no option than to support a man that can end the extremism of despotic governance in the country.
He said the present government has grossly destroyed the federal character principles enshrined in the 1999 constitution of the Federal Republic of Nigeria, as amended, which provides that power sharing should be evenly distribute, as a result, he affirmed to have seen in Atiku, a man who is truly a democrat with an understanding of what constitution in a democratic government stands for.
Also contributing, the Co-coordinator of external relation for the community, Mr. Chris Ochiri known as "Shegbelegbe" and his assistant, Chief Sunday Nwosu, spoke bitterly of how President Buhari led government relegated Ndigbo by depriving them of all benefits in the present government.
According to them, "this government was full of hate and has resorted to vendetta against the Igbo race because it felt they did not empty their entire vote for it during the 2015 general election".
They stated that the Igbo holds the hub of commerce in this country, which the present government blocked by placing ban on importable goods and instituted certain policies to frustrate Ndigbo among other Nigerians in the business community.
Ochiri faulted the federal government anti –corruption war which he said was fundamentally targeted at Ndigbo elits and other prominent Nigerians who were opposed to bad governance.
"We are fed up with bad governance and impunity. That is our reason for supporting Atiku, whom we believe is progressive minded and he has the heart to carry along all section of the country, should Nigerians support him to win".
However, the Director of mobilization Engr. Patrick Emeka Ugwu nicknamed (PDP), and the Secretary General of the community, Comrade Chibueze Mba argued that it's time Nigerians wake up to reality and vote a leader who is educated, with a clear understanding of foreign policies, economic and industrial skills to redirect the country from the catastrophic part is heading to, under the present leadership.
They opined that Atiku as a former Vice President has advantage because from his experience, he knew the antidote to Nigeria's socio-political and economic malaise, thereby calling on all Nigerians to rally round Atiku as the only option to end extreme poverty and hunger.