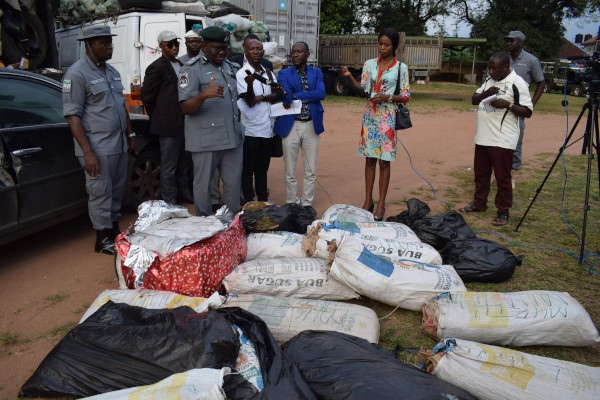 The roving team of the Nigeria Customs Service (NCS), Federal Operations Unit (FOU), Zone 'C', Owerri, Imo State has intercepted more contraband in its area of operations.
The contraband includes no fewer than 556 bales of used clothing concealed in 7 trucks, over 2000 bags of rice and a consignment of shoes.
These were disclosed by the NCS, Customs Area Controller (CAC), FOU, Zone C, Comptroller Olusemire Kayode at Government Warehouse in Enugu/Anambra/Ebonyi Command while briefing newsmen on the successes recorded by his unit in its anti-smuggling operations.
While commending the dedication and dexterity of his officers and men which resulted in the arrest of the suspected smugglers, the CAC reiterated the readiness of his command to always thwart the antics of smugglers and safeguard lives and ensure economic prosperity for the nation.
Comptroller Olusemire warned that some of the illegal imports seized by his officers and men are harmful to the health of the citizenry and adversely affect the socio-economic wellbeing of the nation.
"It is worrisome that people buy used clothing and briefs that you do not know its origin. It is unhealthy and should not be encouraged. In addition, most of our textile companies have gone moribund due to smuggling activities. We should not allow this to continue", he said.
The CAC called for public support in the onslaught against smuggling by helping the service with valuable information. He also appealed to the press for support in sensitization towards attitudinal change.
The command in a statement signed by its Public Relations Officer (PRO), Chioma Onuoha quoted the CAC showcasing seizures of truckload of 430 bags of rice, a Toyota Avalon with 25 sacks of Indian Hemp concealed in it, a big bus with used fridges and foot wears in its Abia/Imo Command.
According to the statement obtained by Maritime Bits, the items were intercepted by officers and men of the unit along the Port Harcourt-Owerri Road and Onitsha Head Bridge axis.
He said some suspects were arrested in connection with the seizures and they have been granted administrative bail pending further investigations.
He reiterated the doggedness and dedication of his officers and men to always thwart the activities of smugglers just as he enjoined smugglers to have a rethink and make a positive attitudinal change and engage in legitimate trade.
On the issue of mob action and attack on NCS officers and men while on duty, the CAC advised Nigerians not to take laws into their own hands.
While asking Nigerians to stop attacking officers, the Customs Chief explained that the lawful penalties of attacking NCS officers on lawful duties according to Section 159 and 165 of the Customs and Excise Management Act (CEMA) include death.