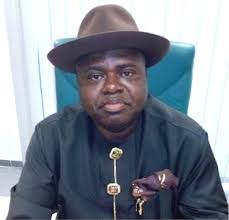 Anthony Anyalewechi, Yenagoa
The Commissioner representing Bayelsa State in the Federal Character Commission (FCC), Hon. Tonye Okio has flayed the shortfall of Bayelsans serving at the top echelon of the federal civil service (FCS).
Okio in telephone chat with Maritime Bits disclosed that the current number of senior staff of Bayelsa State origin in FCS especially in the mainstream ministries and agencies are not more than five.
He expressed fear that by next year most of them will be retiring and the state might have no eligible personnel to fill up Bayelsa State quota in the FCS.
He said though there is an embargo barring transfer of service from the state to the federal level, he was already working on a position paper to secure approval for presidential waiver to move top ranking civil servants from Bayelsa State to the federal level.
Okio expressed regret that for a long time, the state has no commissioner representing it in FCC, thereby creating avenues for other states to usurp Bayelsa State quota in the FCS.
He assured Bayelsans that with the working relationship he has with the Chairman of FCC, he will do everything possible to ensure employment in federal ministries and agencies whenever the state is allocated its slots.
His words: I am working on a position paper to get an approval for a waiver from Mr. President, considering the very bad situation that we are having. We need the presidential waiver so that we can be able to move some of the senior civil servants in Bayelsa State to the federal level."
While appealing to the people of the state to be peaceful, patient and supportive to the federal, state and local government, Okio argued there can never be development in the absence of peace just as he maintained that development can only thrive when peace is sustained.
On the second mandate of FCC, he stated that in as much as President Muhamadu Buhari has given it the mandate to activate and ensure federal character principles is complied with in all appointments, promotions and distribution of infrastructure at the federal level, he will work closely with the Bayelsa State government to secure the state quota.