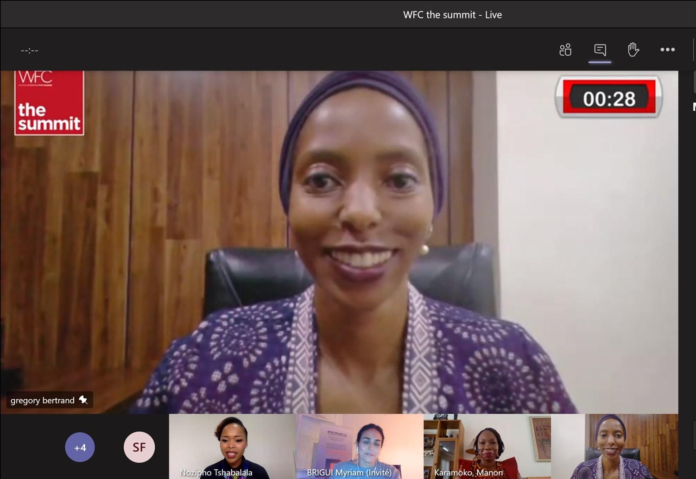 The Managing Director of Lagos Deep Offshore Logistic Base (LADOL), Dr. Amy Jadesimi has urged African private sector to embrace the United Nations 17 Sustainable Development Goals (SDGs) as a template for their new economy business models.
She stated this recently as one of the distinguished speakers at the Women Working for Change (WFC) virtual summit which attracted participants from far and near.
Jadesimi spoke alongside the Acting Chief Executive Officer, International Finance Corporation (IFC), Stephanie von Friedeburg; Head of International Network Department, Proparco, Myriam Brigui; and the Chief Executive Officer, Unilever Côte d'Ivoire, Manon Karamoko on a panel addressing the topic "Coming Out on Top of the Crisis: Towards a More Sustainable Growth Model".
According to her, African private sector is largely unencumbered by legacy non-sustainable businesses and investments. This means that these African companies are set to flourish if they build businesses with new economy sustainable plans and targets. There is now no doubt that sustainability equals profitability, as proven in the Business and Sustainable Development Commission's (BSDC) publication 'Better Business Better World', launched in 2016. The BSDC's report identified USD 12 trillion in market opportunities for companies that focused on sustainable business models.
Continuing, she said: "The demographics of Africa offer a substantial opportunity for global wealth creation. However, we should recognize that the playing field is still tipped against local private companies. Organisations and investors that want to grow with and benefit from job and wealth creation in Africa, while ensuring that Africa industrializes sustainably, should ensure that they put their support and money in the hands of sustainable African companies. Most of the current investments/support coming into Africa now is still being channeled into large monopolies and companies that maintain the status quo".
Jadesimi spoke on the importance of removing bottlenecks and hurdles deliberately put in the place of indigenous private companies, whose growth was essential for continental prosperity, "roughly 80% of the jobs in Africa will be created by SME's".
According to her, it is as if instead of funding mobile phone companies 30 years ago, investors instead funded land line companies in the hope that they would develop mobile technology. A step change is needed, and as it happens it will result in a win, win for everyone – as prosperity in Africa will drive global peace and wealth creation.
The LADOL Managing Director explained that women consistently lead on sustainability and the evidence clearly shows that companies with women in leadership positions significantly outperform those that are 100 percent male.
She added that achieving SDG goal 5, female equality and empowerment it was necessary to achieving all the other goals just as she noted that for the continent of Africa, given the huge market opportunities, need to create new local companies and grow old ones – there is an urgent need to ensure that women are given the support they need to take leadership positions in the private and public sector.
The panel discussed the following:
– By 2100, average temperatures in Africa will rise by 1°C to 4°C, while episodes of flooding and drought are set to become more commonplace. Over the same period, Africa's population is expected to nearly triple in size. With companies looking to reinvent themselves and find new business models, isn't it time to build back better?
– Can Africa's private sector make a substantial shift towards sustainable growth by focusing on reducing greenhouse gas emissions, building resilience to climate change, preserving biodiversity, and developing the circular economy?
According to information obtained by Maritime Bits in its website, LADOL is building the world's first Sustainable Industrial Special Economic Zone (SSEZ) using the UN's SDGs to build a unique circular ecosystem, servicing a range of industries.
Maritime Bits had reported that SSEZ was developed out of a disused swamp and has been operational since 2006. Every year since then the infrastructure and facilities have grown and expanded.
It provides a 24/7 efficient, safe, and secure location from which local and international companies, in a range of sectors, can start operating immediately.
In 2017 the company disrupted the local oil and gas market, halving the costs of local support, and creating thousands of local jobs just as it focused on attracting and servicing a range of non-oil and gas companies, in sectors ranging from technology to agriculture.
The company said the sectors identified will work together to create a circular economy within the zone, pointing out that West Africa is one of the largest under-served markets in the world with the fastest growing population."Industrial companies working in LADOL can service this market sustainably and profitably, while creating tens of thousands of jobs. As the local market grows there will be higher demand for locally produced products, a larger skilled workforce, and cheaper domestic operating costs. LADOL is becoming a blueprint for the sustainable industrialization of Africa, turning Africa's demographic dividend into a global wealth creation", it added.