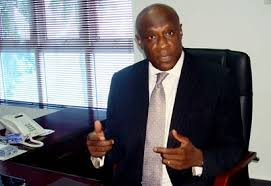 A Lagos base master mariner and former Minister of Interior, Captain Emmanuel Ihenacho has reiterated the need to end piracy in Nigeria territorial waters.
He enjoined the Federal Government to tackle armed robbery, piracy and other criminal activities plaguing the nation's waters over the years.
Ihenacho who stated this during a courtesy visit by the Chairman of Nigeria Union of Journalists (NUJ), Lagos State Council, Mr. Adeleye Ajayi and members of his executive called on the Nigerian Navy to be involved in checkmating the activities of pirates in Nigeria waters.
"Armed robbery and piracy give our country a bad name and one of the consequences is that the premium is added to insurance on goods coming into the country", he said.
He used the occasion to express his support for the development of a national fleet that must not be predominantly under government ownership but private participation should be allowed.
He promised a cordial working relationship with the NUJ, Lagos Council just as lauded the programmes enumerated by the Chairman for members of the council.
Describing Ihenacho as media-friendly and supportive person anytime he was invited by the media, Adeleye had in his opening remarks commended the contributions of the master mariner to the maritime sector of the economy especially in the enactment of the Cabotage Act 2003.
He also hailed the move to create a national carrier to be administered by the private sector as well as the human capacity development in the shipping industry.
He stated said the Lagos State Council looked forward to the support of the former minister in the implementation of its projects during his tenure.