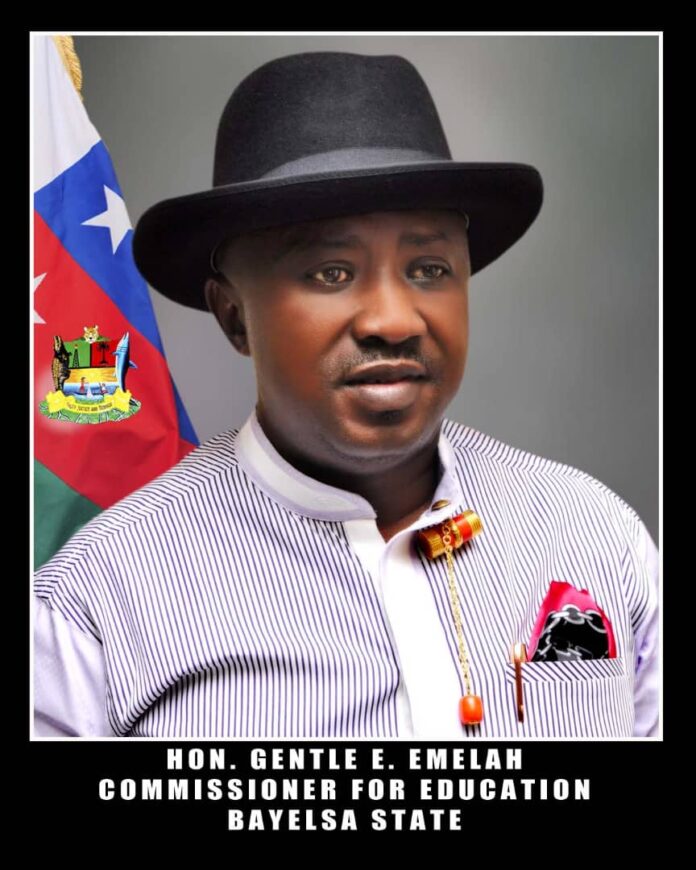 By Kos-Ikah Onisoman.
Alluding to the Bible passage Psalms 37: 23 which says "The steps of a good man are ordered by the Lord; and he delighted in his way".
Same is the story of Hon. Gentle Epilefa Emelah, the Honourable Commissioner for Education Bayelsa State who turned 54 on the 11th of November 2020 amidst lots of surprises.
Emelah woke up to his regular routine in the morning when he was greeted with what could be likened to an ambush from Yenagoa Constituency 111 Women Prayer Group joined by the youths in Yenagoa Local Government Area led by Mrs. Ted Elemeforo, Hon. Caro Ogbara and Hon. Patience Ebiere Tamuno. The youths were led by Comrade Peres Ineife.
The reverberating sounds of the drums being rolled out called the attention of the Emelah as the sounds became louder and clearer as they approached closer with a birthday cake ready to celebrate him in a colorful manner. Shortly after the group exit, Emelah received yet another delegation from Christ Embassy Fountain of Grace who also rolled out their own drums of celebrations for the celebrant. This got him dancing with joy. The delegation from the church was led by Deacon Bibi Alagha. They felicitated with one of their own on his great day singing birthday songs in colorful rhythm.
Members of Mimshack Cell, Christ Embassy, Amarata, Yenagoa who rolled out drums and sounds all the way from Amarata in what could be likened to a rally danced down to Bay Bridge Kpansia where Emelah resides to celebrate with him.
The need to quickly get prepared and attend to his official assignments for the day, prompted him to quickly get ready and left for his office. However, on arrival at Education House, the corporate headquarters of the ministry situated at Ovom, Yenagoa, he was greeted with another set of surprises with leaders of the students bodies in the state led by Kenneth Jacob of the National Association of Nigerian Students (NANS) and his counterpart in the National Union of Bayelsa State Students (NUBSS), Comrade Solomon Bigbo. The student delegations from NANS and NUBSS gave the commissioner a grand welcome to his office with drumming and singing to his amazement. This was followed with the cutting of the cake to mark the event.
Done with the students at the conference room, Emelah in his usual manner walked into his office to resume duty for the day only to be greeted to sounds of a saxophonist and a crowd already waiting for him in his office. As members of staff in his office and some of his loyalists had organized a surprise birthday party for him, he walked in to them, as they were already singing the famous "happy birthday to you… happy birthday to you".
Amazed and dazzled at what he saw, the Bayelsa State Ministry helmsman could be seen smiling all the way as he was indeed overwhelmed at the crowd already waiting for him inside without his prior notice. Those present were stakeholders in the state among whom were the Senior Special Assistant (SSA) to the Governor on Special Duties, Hon. Timothy Diekivie Itiedu; Commissioner for Assembly Service Commission, Hon. Godwin Worukumo; Chairman Okordia Zarama Biseni Cluster Board, Hon. Jerusalem Adikabue; former Rector, International Institute of Tourism and Hospitality, Hon. Samuel Timi Johnson; Directors of the Ministry of Education, and the clergy. Other stakeholders from Yenagoa Local Government Area and well-wishers also graced the occasion.
Speaking on behalf of the staff of the office of the Honourable Commissioner for Education, Mrs. Tombra Eyeoyibo Johnson described Emelah as a "good boss" who is humble and as such informed the reason for the honour done to him in return.
The Permanent Secretary, Ministry of Education Bayelsa State, Comrade Walton Liverpool in his remarks, described the celebrant as a true educationist, and a true gentleman loved by all.
He noted that Emelah was not only a square peg in a square hole but also an asset to the ministry.
The wife of the celebrant, Mrs. Patricia Emelah who described her husband as a caring and loving man who is slow to anger also thanked the members of staff for honouring him.
Former Commissioner for Information, Deacon Markson Fefegha extolled the virtues of Emelah whom he described as a jolly good fellow who always exhibits the fear of God in all his dealings.
At about noon later that day, he attended the state executive council meeting where he was also by the state government at the Deputy Governor's Conference Room after which a birthday card was presented to the Commissioner by the Deputy Governor, Senator Lawrence Ehwrujakpo on behalf of the state governor, Senator Douye Diri.
When Emelah thought he has had enough for the day, he returned to his office at the end of the state executive council meeting only to be greeted at the entrance to his office, by members of the Unified Non-indigenes Association of Bayelsa State led by Mr. Arthur Chinedu who came dragging a goat to as birthday present to the celebrant.
Emelah who could not hide his joy joined them to sing and dance for few minutes before stepping upstairs into his office. Again, he was confronted by another surprise from the management of the International Institute of Tourism and Hospitality who were already inside waiting for him. They greeted him with more birthday songs. He was presented a birthday cake and a card wishing him well.
When he finally returned home at about 6pm, it was yet another round of what in musical parlance is called "Parte after Parte" as his beloved wife, Mrs. Patricia Emelah prepared a lot to eat and drinks to mark the day.
Others who also celebrated Emelah include the management of Doncort Homes and Apartments, Baraza Multi-purpose Investments, Bayelsa Medical University, Association of Private School Owners of Nigeria, friends, political allies and associates. For Emelah, it was indeed a festival of surprises at 54.
*Onisoman, Special Assistant on Media and Publicity to the Bayelsa State Commissioner of Education, writes from Yenagoa.