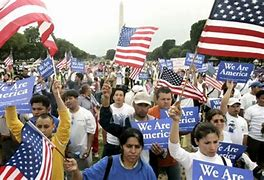 Many Nigerians have been left with destitution, hunger, and joblessness in the United Kingdom after paying travel agents huge amounts of money to leave the country in search of green pastures.
According to Sky News, Nigerians who spoke on the condition of anonymity said they paid their respective agents to travel to the UK on skilled worker visas only to realise that the jobs do not exist.
One of the victims, laden with distraught spoke on the narrow corridor of a food bank, and said she is currently destitute in the UK despite being promised a job.
Another lady added that she arrived in the UK three months ago, after paying someone she referred to as an "agent" in Nigeria £10,000 to arrange a job.
In contrast, she got here she found there was no work for her.
"Their pathetic stories only attest to how agents or middlemen are manipulating Nigerians desperate to travel out of the country with the skilled worker visa system, who have been promised heaven, only to find out that they do not exist," the report read.
It added that many Nigerians were struggling to survive, turning to food banks and even sleeping rough.
One of the destitute was said to have found succour at a food bank in a Nigerian Community Centre in Greater Manchester where she was given a shopping bag of basic supplies.
The shelves and crates are packed with donations of bread, cereal, tinned tomatoes and familiar African items like palm oil and beans.
Recounting her ordeal, the victim said, "I've always provided for myself. I'm a very hard-working, diligent person. So for me to be here depending on people to eat coming to the food bank to get food isn't ok with me.
"I don't feel happy about it. It makes me feel I'm less of a person. I should be in a position of helping not receiving aid because this is not who I was back in my country. It makes me feel as though I'm a fool," she said.
She was also asked not to contact the British company that sponsored her for fear of repercussions – but showed her passport and other documents supporting her account of what happened.
She also added that she did not make the application herself, stressing, "I would have done it myself but there are so many frauds on the internet [in Nigeria] you don't know what's real. It makes me feel as though I'm a fool."
Speaking on their predicament about how the skilled worker visas they banked on failed, she further said, "There are so many. Dozens. I met a lot here and so many are still coming after I've come. There's a big scam going on."
The founder of the Nigerian Community Centre in Rochdale, Mary Adekugbe, said those on skilled worker visas now needing support is a big issue that is increasing her workload – something she describes as "shameful".
Adekugbe said about 15 of the 35-40 people who generally come to the weekly food bank have skilled worker visas.
"We are overwhelmed. People are desperate. It's so worrying," she said.
She added a scenario, "A grown-up man crying like a baby. Children crying without food because their parents can't work to support them. No houses. No job. This is alarming."
*This article initially titled "Nigerians Stranded in UK After Emptying Savings on Travel" was culled from Daily Trust