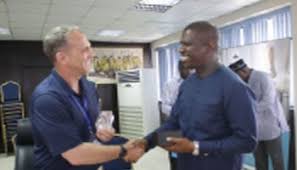 The United States Coast Guard (USCG) has expressed satisfaction at the compliance level of Nigeria with the International Ships and Ports Security (ISPS) facility Code in Nigeria's ports.
A delegation from the USCG led by Lt. Commander Jacob Hopper of the International Port Security (IPS) Liaison for USCG in West and Central Africa and Europe who were on a two-day visit to some of the ports in Lagos stated that there has been a lot of improvements in the nation's port as a result of the security architecture put in place.
Hopper commended the feat achieved by the Nigerian Maritime Administration and Safety Agency (NIMASA) which is the Designated Authority (DA) for the code in Nigeria just as he noted that he was elated by the level of expertise and knowledge demonstrated by some staff of the agency during the visit.
While describing the agency as very resourceful, he charged the agency not to rest on its oars in ensuring total compliance to the issues relating to safety and security at the nation's ports.
The Director General of NIMASA, Dr. Dakuku Peterside had earlier thanked the USCG for their continuous support and noted that the agency remains committed to the ideals of international best practices in carrying out its mandates.
Peterside who was represented by NIMASA Executive Director, Operations, Engr. Rotimi Fashakin, also said that the goal of the agency is to attain 100 per cent compliance with the ISPS Code and it remains open to all forms of collaboration with stakeholders both locally and internationally, geared towards making Nigeria a maritime hub in Africa.
"Let me commend your support to us over the years and tell you that it has kept us on our toes, thereby assisting us achieve this feat you have noticed today. We also seek your continuous partnership; because for us in NIMASA, it is work in progress and we remain open to all forms of partnerships that can assist us reach our desired goals" he said.
He also used the opportunity to inform the team that NIMASA has successfully updated the Global Integrated Ship Information System (GISIS) since 2017 and called for an update by the US Port Security Advisory (PSA) as it still display 2013 information about Nigeria.
It may be recalled that NIMASA was appointed the DA for ISPS Code implementation in Nigeria in May 2013 and has since then left no stone turned in ensuring that the nation's ports are compliant in line with global best practices, which has earned the Agency several commendations.