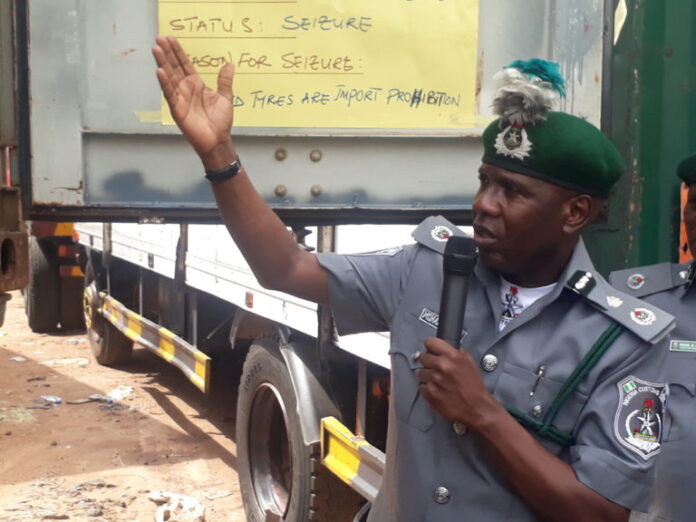 The Nigeria Customs Service (NCS) is investigating the Nigerian Breweries Plc for the allege recurrent use of its trucks to smuggle foreign rice into the country, the Customs Area Controller (CAC), NCS, Federal Operations Unit (FOU) Zone A, Ikeja, Lagos, Comptroller Mohammed Garba Uba has said.
The investigation of the brewing giant is coming on the heels of the FOU, Zone A intercepting a truck conveying crates of drinks tucked with smuggled bags of rice belonging to the Nigerian Breweries Plc in recent times.
This is barely one month after the unit intercepted 163 bags of rice concealed in crates of beer in a truck belonging to the brewery giant.
Confirming the development, Mohammed Uba in a parley with reporters in the unit headquarters in Lagos said: "We will investigate the incessant use of the Nigerian Breweries Plc trucks to smuggle rice into the country. We will be fair to the company. We will invite them to give their side of the story. We cannot do the investigation without listening to other parties. We have to listen to other parties for justice."
The Customs Chief enjoined reputable organisations to be wary of drivers who may have ulterior motives than their job description.
His words: "My advice and warning to individual and private organization employing drivers and other workers using their mobility to convey their goods is that they should look at the credibility of such employees because they can dent the image of the company and slow down the process of making their gains".
The CAC also disclosed that officers and men of the FOU also intercepted 9 trailers load of smuggled rice numbering about 5,516 bags and recovered N1.039 billion into the coffers of the government.
Similarly, it seized 30 exotic vehicles, 1068 cartons of frozen poultry products, 216 jerry cans of vegetable oil, 683 pieces of used tyres and sacks of Indian hemp.
"Having deepened our anti-smuggling operations from April 10th to May 15, 2018, we have intercepted various contrabands and other goods on detention with a duty paid value (DPV) of N1.10billion. The unit through its interventions also recovered N29million from under-payments making a cumulative of N1. 39 billion within the weeks under review.
"The detained/seized items include: 30 exotic vehicles including 7 Toyota Hilux (2018 models), 3 Toyota Prado Jeep (2017), 1 Range Rover, 1 Ford Edge (2015), 5,516 bags of foreign parboiled rice (9 trailers), 1,078 cartons of frozen poultry products, 216 Jerry cans of vegetable oil, 173 bales of used clothing, 683 piece of used tyres, 8 sacks of Indian hemps weighing 134 kg among others", he said.
On why the containers were seized, he said: "They were seized for alleged false declarations and N25million recovered from the importers. The two containers with no: MSKU130295/2 and MRKU877714/0 have been seized for false declaration with a DPV of over N25 million alone. We will continue to make this zone uncomfortable for smugglers to operate and urge every Nigerian to be patriotic and report any smuggling activities in their areas to the Service and any intelligence provided will be treated in confidence.
"Let me advise these economic saboteurs as well as fraudulent importers to invest their resources towards legitimate trade and desist from engaging in smuggling activities, as the Service and indeed the Unit will not renege on our statutory functions most especially in suppressing smuggling."