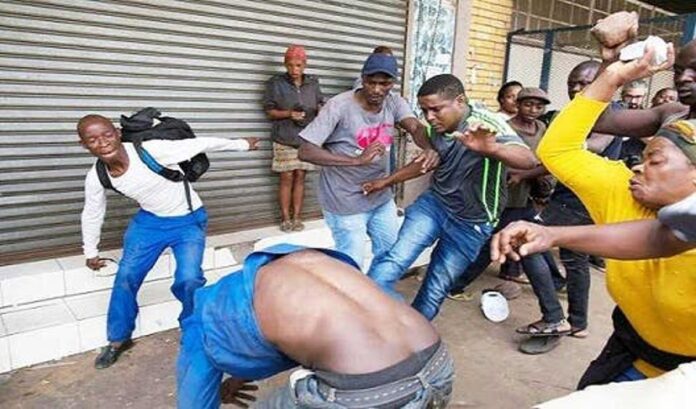 A Nigerian has killed another Nigerian in South Africa, the Consul General of Nigeria in South Africa, Godwin Adama has said.
Adama in a statement obtained by Maritime Bits, condemned the alleged killing of a Nigerian, Mr. Linus Chibuzor-Nwankwo an indigene of Enugu State by a fellow Nigerian, Mr. Lawrence Nwarienne who hails from Anambra State.
He expressed shock over the killing revealing that the 42-year-old Chibuzor-Nwankwo was shot by Nwarienne, another Nigerian operating a bar in South Africa, in the early hours of last Friday in Kempton Park, Johannesburg, South Africa.
According to him, Nwarienne shot the deceased at his bar for reasons not very clear. The suspect was, however, immediately arrested by the police who had launched investigation into the case.
His words: "The High Commissioner and the Consul General are very concerned on this development. We condemn this dastardly act and do not expect it from our nationals who are supposed to protect each other. This is a development that is becoming frightening and may make South African police authorities to blame other future killings on the same trend. We are taking it seriously."
He said that the mission was in touch with Nigerians and police authorities and encouraged them to properly investigate the murder and prosecute accordingly.
He explained that this was meant to discourage future actions of that kind by any person irrespective of his nationality.
"We are monitoring the development and encouraging Nigerians to conduct themselves peacefully while we seek for justice. Mission has been in touch with Nigerians on the unfortunate development. Mission has already commenced discussions with Nigerian stakeholders to discourage this trend," he said
He said that the situation had been calmed down to avoid reprisal attacks from other Nigerians and close relations and friends. According to him, the case is being monitored by Nigerian community in South Africa to ensure justice is done to avoid future occurrence.