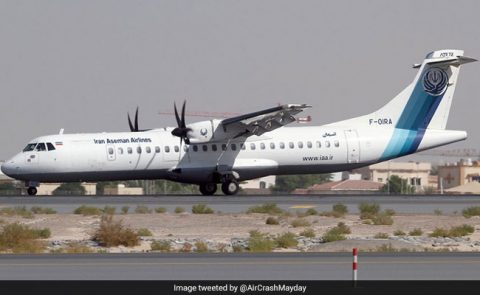 A commercial plane crashed Sunday in a foggy, mountainous region of Iran, killing all 66 people on board, the state news media reported.
The Iran Aseman Airlines plane went down near its destination, the city of Yasuj, about 485 miles South of the capital, Tehran.
A spokesman for Aseman Airlines, Mohammad Taghi Tabatabai told state television that everyone aboard the ATR-72, a twin-engine turboprop used for short-distance regional flights, had been killed.
According to Associated Press (AP), the ill-fated plane was carrying 60 passengers, including one child, and six crew members.
While the cause of the crash was not immediately clear, the Iranian Red Crescent said it had deployed people to the area, and the authorities said they would be investigating.
The fog prevented rescue helicopters from reaching the site in the Zagros Mountains, state TV reported. Mr. Tabatabai said the plane had crashed into Mount Dena, which has an elevation of about 14,500 feet.
News reports said the plane disappeared from radar screens 50 minutes after taking off from Mehrabad International Airport in western Tehran, which mainly serves domestic flights although it also has some international routes.
Under decades of international sanctions, Iran's commercial passenger aircraft fleet has aged, with accidents occurring regularly in recent years.