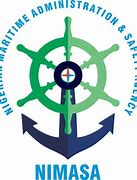 educate and strengthen judicial officers on how best to handle admiralty cases was not left behind in the period under review. NIMASA successfully hosted the annual Nigerian admiralty law colloquium in collaboration with the Nigeria Institute of Advanced Legal Studies (NIALS) and the National Judicial Institute (NJI) for the years 2021, 2022 and 2023.
On anti-piracy, NIMASA championed implementation of the Suppression of Piracy and Maritime Offences (SPOMO) Act 2019 which has enhanced safer and secured trading routes through the Gulf of Guinea region and ensured proper prosecution of a sizeable number of cases such as FGN versus BinaebiI Johnson and 8 others and FGN versus Frank Abaka and 9 others.
This landmark SPOMO Act by Nigeria is presently being studied by other maritime administrations owing to its huge success in fighting piracy with a rich legal framework that is marked with successes since implementation began.
Beyond the shores of Nigeria, notable global maritime personalities like Kitack Lim, the immediate past Secretary General of International Maritime Organisation (IMO) and Dr. Paul Adalikwu, Secretary General of Maritime Organisation of West and Central Africa (MOWCA) have recommended the SPOMO Act model to other African countries.
All these achievements under the leadership of Jamoh and his team shows an agency focused on the use of the instrumentality of the law to enhance the values Nigerian maritime industry adds to the Nation's economy.
Edward Osagie, an Assistant Director, Public Relations in NIMASA writes from Lagos.