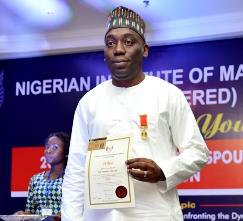 Peace Obi
An astute administrator and a player in the nation's organised private sector, Mr. Ahmadu Fidi Ahmadu has been conferred with the prestigious award of Fellow, Nigerian Institute of Management (NIM), Chartered. The meritorious award which remains the institute's highest membership grade conferred on deserving members was among the three classes of awards some deserving members were honoured with during NIM 2018 awards, fellows and spouses day luncheon which took place in Lagos.
Speaking with Maritime Bits, Ahmadu who is the Chief Operating Officer, African Circle Pollution Management Limited hailed NIM's commitment to human capital development over the years.
He stated the need for the institute and the government to focus more on providing young people with the competitive skills needed for the 21st century workplace.
Commending NIM for leading the way in the provision of professional training, policy development as well as bridging the manpower gap between the gown and town, Ahmadu noted that the contributions of most chartered institutes in the country have remained integral to the growth of businesses as well as the country's economy.
His words: "I have so much faith in the Nigerian Institute of Management, Chartered, especially in the area of capacity building. That also informs why we have an alliance with them where they train our staff. If there is anything, we have to give credit to in this country, it is our chartered institutes. Most of our chartered institutes are excellent professional bodies. Often times, they are far better than what is obtainable in some other climes. I have been to different countries, Nigerian chartered institutes remain outstanding.
"I am quite proud of the institute's young managers' scheme which I sponsor a lot. They should try as much as possible to continue their impact on the young graduates from the polytechnics and universities while paying considerable attention and trainings on workers. I think they actually need to do more of backward integration. That is, getting more young people into the institute".
He stated that it was high time Nigeria came up with clear policy to improve her quality of education.
The African Circle Pollution Management Limited COO argued that Nigeria would experience the desired growth and development when government concentrate on providing infrastructure, security and enabling environment for the private sector to thrive.
According to him, government should learn from the transformation the country's telecommunications industry has witnessed with the advent of private sector investments. The country will record more growth and developments in other sectors when government ensures security, infrastructure among other things are put in place.
Continuing, he said: "There is still a lot of work to be done. We have always been doing catch up, but a clear policy needs to be put in place to improve the quality of education in Nigeria. Nigeria needs to be in tune with the times. Take example of the transformation that the telecommunications sector has experienced. You can imagine how the country has maintained a steady growth in tele density since the privatisation of the telecommunication sector was launched during the Chief Olusegun Obasanjo's administration. Just from about 10,000 NITEL lines to millions of wireless subscribers in the country.
"That can be replicated in other sectors of the economy. Government should just create the atmosphere and allow the private sector to take the lead. Government has no business being in businesses. It has not succeeded in anyway. As long as security, infrastructures are in place, the private sector should take the lead and as long as government meddles into business, we will be taking one step forward, two back".
President and Chairman of Council, Professor Olukunle Iyanda had earlier in his address welcomed participants to the 2018 edition of the institute's awards, fellow and spouses day luncheon.
Congratulating the awardees, Olukunle said that though many members met the stringent criteria set by the council for being elevated to the institute's highest professional grade, only a selected few were chosen in order to maintain the recognition and reputation of NIM Fellowship.
He said: "We need men and women who appreciate and accept the self-imposed limitations of responsible leadership, and are committed to and imbued with integrity and concern for the well-being of the society in general rather than obsessed with their own personal ambitions and self-aggrandisement. Such virtues are the characteristics of men and women who are elected as Fellows in the Nigerian Institute of Management. It is our responsibility as an institute to hold our members to these noble values and code of conduct in their daily works and decisions.
"I therefore, implore our new fellows not to be contented with just adding the designation 'FNIM' to their names but to see their elevation as a call to higher responsibility and exemplary behaviour in the service to our country and people".
Delivering a lecture titled, "Leadership and the Changing Paradigms- Confronting the Dynamics of Change", the guest speaker, Commodore Abimbola Ayuba (retired) said that the impact of technology on the modern workplace skills will continue to lead to more of employers seeking for more economic ways of getting things done.
He argued that where 10 personnel are needed, three or less may be taken in addition to applying the modern technology.
"The reality now is that conventional professions like law, medicine will be there but the job that will be available will be for those who will be able to multi-task, those that have more than three qualifications so that they can continue to be relevant. Also, people are likely going to do two or more jobs for them to really break even as the future approaches", Ayuba said.
The retired military officer called on governments, non-governmental organisations (NGOs), individuals and groups who have capacity to assist in building up the young people for future jobs not to rest on their oars.
Faces of Personalities at the Formal Investiture of the Chief Operating Officer (COO), African Circle Pollution Management Limited, Mr. Ahmadu F. Ahmadu as a Fellow of the Nigerian Institute of Management (NIM) Chartered in Lagos…recently: