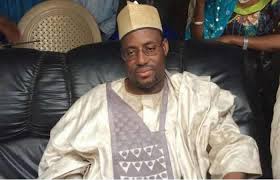 The Nigerian Ambassador to South Africa, Ambassador Ahmed Ibeto has resigned.
It learnt that he also renounced his membership of the ruling All Progressives Congress (APC) and return to the Peoples' Democratic Party (PDP).
The ambassador, who was a deputy governor of Niger State on the platform of PDP, was reported to have arrived Nigeria from Pretoria at the weekend handed over his letter of resignation at the Ministry of External Affairs on Monday before returning to Minna the same day.
Ibeto subsequently left Minna for his home town of Ibeto in Magama Local Government Area of the state where he was received by hundreds of his supporters.
Maritime Bits checks revealed that Ibeto was a member of the PDP until the primary election of the party in November 2014, during which he lost the governorship ticket to Umar Nasko, a former Chief of Staff to former governor Babangida Aliyu.
He resigned his membership of the PDP along with thousands of his supporters after complaining about disrespect and injustice.