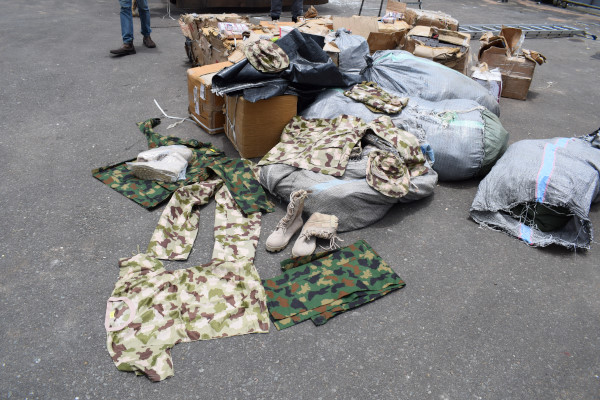 The anti-smuggling campaign of the Nigeria Customs Service (NCS) has yielded more results as its officers and men in the Federal Operations Unit (FOU), Zone 'C', Owerri, Imo State intercepted a truck laden with military hardware and medicaments concealed in it.
This is the second time the service is making a seizure of military hardware in the zone in recent times. Only last July, it made a seizure of military hardware.
No fewer than two suspects connected with the prohibited items have been arrested just as investigations into the root of the matter has begun.
The interception of the truck laden with the prohibited items was said to have been spearheaded by a mobile patrol team in Head Bridge axis of the FOU, Zone C, Owerri.
This was disclosed by the Customs Area Controller (CAC), NCS, FOU, Zone C, Comptroller Olusemire Kayode.
He also gave a breakdown of the items laden in the truck. They are 90 pairs of military camouflage uniform; 97 pieces of military camouflage jungle hats; 202 pieces of military camouflage round neck vest; 20 pieces of military camouflage singlet; 40 pieces of military camouflage jungle boots; and 10 pieces of military camouflage water bags.
Others are two rolls of plain military khaki material; 7 cartons of 402 packs of hydrochloride Royal tramadol containing 10x10x10 tablets made in India; four cartons of 60 packs Tramadol injection, made in India; three cartons of 140 packs of CSP with codeine cough syrup made in the United Kingdom.
Also concealed in the truck are 100 packs of Diazepam made in India; two cartons of 231 packs of Juhel D5 tablets; one carton of 100 packs of Pankizol; 10 cartons of new flipchart board; 51 cartons of lion school chalk; and one carton of file.
The Public Relations Officer (PRO), NCS, FOU, Zone C, Ngozi Onuoha in a statement obtained by Maritime Bits quoted Comptroller Kayode saying that the seizure was made following a tip off from informants.
He enjoined the public to emulate such patriotism and forward valuable information to the officers and men of the service.
He praised the doggedness and preparedness of officers just as he reiterated that the unit under his watch will nip the affairs of smugglers in the bud.
The Customs Chief also queried the aim of the importers of the consignment in concealing the military hardware and medicaments.
According to the CAC, the improper importation of the camouflage and medicament pose grave health and safety risks.
While enjoining smugglers to engage in legitimate trade and called for public support in the fight against smuggling.
No fewer than five states in the country are in Zone C which has its operational headquarters in the Imo State capital, Owerri. Besides Imo, other states in Zone 'C' are Abia, Edo, and Rivers, and Delta.