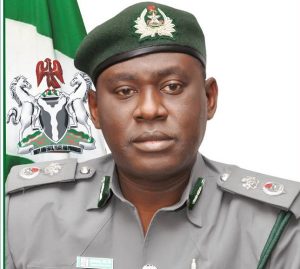 John Iwori
The new Customs Area Controller (CAC), Tin Can Island Port Complex (TCIP), Apapa, Lagos, Comptroller Musa Baba Abdullahi has set a target for himself in the discharge of his statutory roles and responsibilities.
Besides expressing his commitment to the contribution of the command to Nigeria's economic growth and competitiveness, Abdullahi vowed to deliver on the Nigeria Customs Service (NCS) mandate in the area under his watch.
He revealed that the command was given a target of N364 billion for revenue collection even as he disclosed that the command had already generated N62 billion.
The Customs Chief assured that under his watch, the command would block all revenue leakages, collect appropriate duties and meet its target for the year as mandated by the Comptroller General of Customs, Colonel Ibrahim Hammed Ali (retired) in his charge to officers and men of the NCS.
At a maiden media breakfast meeting organised recently in the command headquarters, Apapa to herald his formal taking over the reins of administration, Abdullahi averred that the command would not only provide social and environmental protection but also contribute in the fight against terrorism, interception of illicit, dangerous, and counterfeit goods.
According to him, the command under his supervision would through trade facilitation and ease of doing business initiative of the Federal Government ensures that no item in the Import Prohibition List (IPL) is allowed into the country under any guise. This is also applicable to the Export Prohibition List (EPL).
The assertion of the Customs Chief was not unconnected with the series of contraband, especially arms and ammunitions that were imported into the country through command in the last two years.
At the last count, no fewer than 2, 671 pump action rifles imported into the country from Turkey were last year intercepted in the TCIP following a tip off.
Not a few stakeholders in the maritime industry believed that if Abdullahi and his team put their feet on the ground, there would be a significant reduction in the incidence of arms and ammunitions importation into Nigeria through TCIP in the months ahead.
The CAC assured that he intends to provide better service delivery just as he noted that the command would continue to build capacity in all core NCS areas of operation such as classification, valuation, risk management, and data management.
His words: "We are to provide co-ordinating role in Ease of Doing Business Initiative. As part of trade facilitation, we are aware of the 48 hour cargo clearance time. We have therefore deployed the 'Time Release Studies' as performance indicator to guide our performance. Other issue to contribute to this will include transport efficiency and efficient infrastructure which is beyond us. We are deploying software to handle the remaining part of the export procedures. It will enable records of none oil exports, agriculture and others.
"Our mission includes trade facilitation, revenue collection, national security and capacity building. We shall collaborate with other stakeholders in some other areas to curb the influx of arms into the country. Prior to this time, the Dispute Resolution Committee (DRC) was meeting twice a week to deliberate on conflicts arising from valuation, classification, PAAR and others. However, on assumption of office and as a pointer to our renewed enthusiasm for trade facilitation, I have directed that all issues arising from disputes must be attended to with dispatch. Hence, the DRC have been directed to sit on daily basis for quick resolution of issues"
Apparently aware that the media played a major role in the giant strides made by his predecessor, the new CAC said: "I have been fully briefed on the enormous co-operation that you extended to my predecessor which ultimately gave him the needed impetus to excel, through your very constructive, professional and investigative reportage of our activities. Thank you."
On the deployment of NICIS II, he said: "NICIS II was an upgrade on NICIS I with more efficient and functional capabilities to enable quick cargo clearance, thereby reducing transaction cost. Stakeholders and officers are undergoing training for ease of implementation and migration".