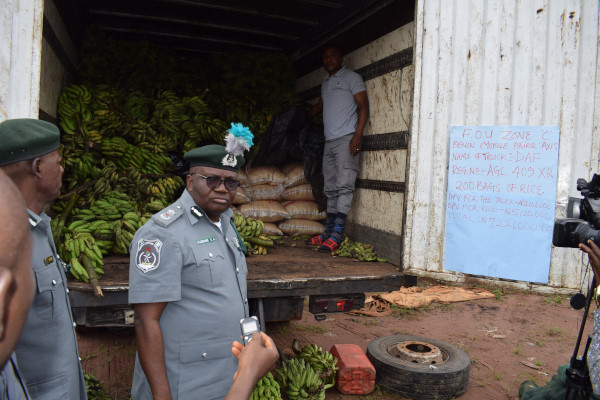 *Seizes 12 Vehicles, 881 Bags of Rice
John Iwori
The Nigeria Customs Service (NCS) has step up its anti-smuggling campaign in Zone 'C'. No fewer than five states are in Zone C which has its operational headquarters in the Imo State capital, Owerri. Besides Imo, other states in Zone 'C' are Abia, Edo, and Rivers, and Delta.
Already, the campaign has started yielding results with the seizure of no fewer than 12 vehicles and 881 bags of rice with a duty paid value (DPV) of N385 million.
A breakdown of the seizures include a Range Rover Autobiography 2014 model with DPV of N76,423,500; Toyota Land Cruiser bullet proof 2016 model with a DPV of N40,105,545; Toyota Land Cruiser bullet proof 2014 model with a DPV of N33,145,079; Mercedes Benz G-wagon bullet proof 2017 model with DPV of N68,554,565; Mercedes Benz GLE 450 2016 model with a DPV of N26,032,239; and a Toyota RAV 4 2014 model with a DPV of N9,728,505.
Others are Toyota Highlander 2017 model with a DPV of N19,590,110; Toyota Hilux 2017 model with a DPV of N15,413,996; Lexus ES350 2008 model with a DPV of N4,510,391; Toyota Corolla 2014 model with a DPV of N7,229,250; Ford Edge 2015 model with a DPV of N16,835,891; 741 bags of 50 kilogrammes foreign rice with DPV of N18,969,600; Ford transit bus carrying 100 Bags of 50 kilogrammes of foreign rice with total a DPV of N4,060,000; and a Ford transit bus carrying 40 bags of 50 kilogramme of foreign rice with total a DPV of N2,524,000.
These were disclosed by the Customs Area Controller (CAC), Federal Operations Unit (FOU), Zone 'C', Owerri, Comptroller Olusemire Kayode.
He stated that the unit would continue to live up to its roles and responsibilities of tackling smuggling and generating revenue in the months ahead.
Kayode who recently took over the mantle of leadership in FOU, Zone 'C' stated that the seizures were made by officers and men in the Benin axis of the unit.
Describing the seizures as the fruits of "hard work and diligence" of officers and men of the unit, the CAC said the seized vehicles include luxury cars, three among which are bulletproof.
He stated that the vehicles on interception did not have documentation and the appropriate permit from the National Security Adviser (NSA) for importation of the bulletproof vehicles into the country hence their arrest.
The CAC enjoined importers of such cars to pay the appropriate duties and shun duty evasion.
Continuing, he said: "Most of these vehicles are worth millions of naira. If they can afford to buy these vehicles they should not evade paying the duty".
He reassured that the unit's anti-smuggling operations will not go down under his watch and the antics of smugglers will be thwarted in the zone just as he urged importers to acquaint themselves with extant laws governing trade in the country to avoid running afoul of the law.
Giving an insight into the seizures in a statement signed by the units Public Relations Officer (PRO), Chioma Onuoha and made available to Maritime Bits, Kayode said the consignment of rice was concealed underneath heaps of banana in a truck.
According to him, officers and men of the unit acting on a tip off checked the vehicle and discovered the concealment of the prohibited items.
The Customs Chief explained that officers and men of the unit were not out to hinder local traders in their daily business but to ensure that the laws of the land are complied with besides facilitating trade.
He sounded a note of warning to smugglers and urged Nigerians to support the local agricultural industry by buying and consuming locally produced rice.
He further stated that the ban of rice importation through land borders was still in force and urged the public to boost the agriculture sector and the economic well-being of the country by patronising locally produced goods.
The CAC argued that with inter-agency cooperation and the support of the media and the public, smuggling will be brought to the barest minimum.