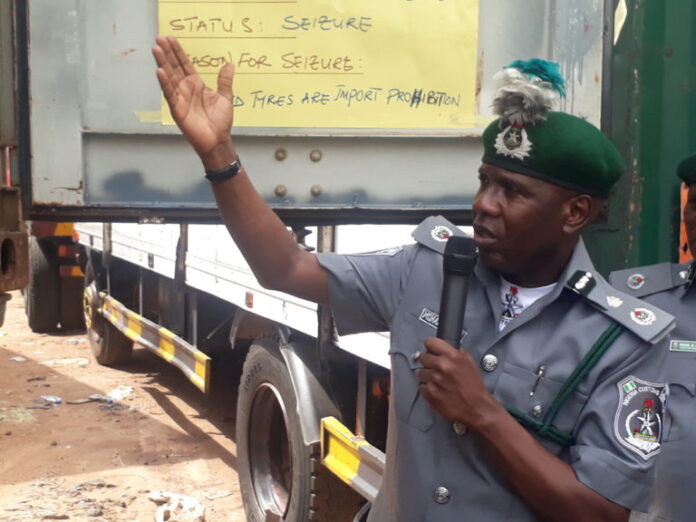 No fewer than 12 suspects have been nabbed by the Nigeria Customs Service (NCS), Federal Operations Unit (FOU), Zone A, Ikeja, Lagos.
It also made 112 different seizures with a duty paid value (DPV) of one billion, three hundred and forty five million, five hundred and seventy two thousand, three hundred and thirteen naira.
Customs Area Controller (CAC), FOU, Zone 'A' Ikeja, Comptroller Muhammed Uba Garba who disclosed this in a chat with journalists said the contrabands were seized between 16th May and June 12, 2018, as a result of what he called "reinvigorated anti-smuggling operations" by is officers and men.
The seizures include 15 exotic vehicles including three Toyota C-HR, 2018 models; one Toyota Camry LE, 2018 model; one Toyota Prado, 2018 model; one Toyota Hilux, 2017 model, one Pajero Jeep, 2017 model; and one Mercedes-Benz, 2017 model.
Other seizures include 9,049 bags of foreign parboiled rice, 15 trailers; 1,464 cartons of frozen poultry products; 870 jerry cans of vegetable oil; 273 bales of used clothing, 592 pieces of used tyres popularly called tokunbo.
The CAC explained that the feat was achievable due to the change in the unit operational modalities and strategies via surveillance at the creek, water side and at various locations in the South-West geo-political zone.
He reiterated his commitment to the sustainability of the tempo with a view to re-positioning and re-activating the anti-smuggling ambience of the unit.
The Customs Chief praised the Comptroller General of Customs, Colonel Ibrahim Hameed Ali Ibrahim (retired), NCS management team and the media for what he called "their unflinching support and partnership" in the provision of logistics, motivation, sensitization and educating the public on the ills and dangers of smuggling to the economy of Nigeria.
Continuing, Garba said: "Let me commend our officers who have put their lives on the line in making these seizures possible, most especially the 15 trailers load of rice knowing fully well that it is a big battle at the creeks and bush paths. The resilience and doggedness of these patriotic officers and men is highly commendable."