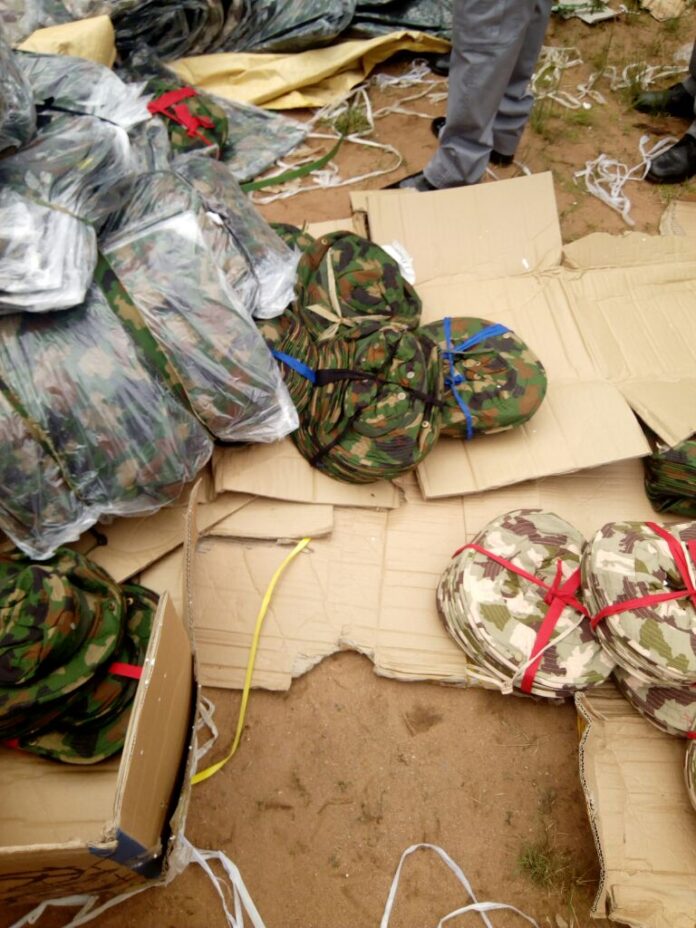 John Iwori
The anti-smuggling campaign of the Nigeria Customs Service (NCS) has yielded more tangible results as its men and officers in the Federal Operations Unit (FOU), Zone C have seized items in the import prohibition list (IPL).
The seizure include the Nigerian Army camouflage with a duty paid value (DPV) of over N153 million.
Other seizures include 1×40 feet container containing 309 bales of used clothing with a DPV of N56,280,000; 588 cartons of footwear with a DPV of N70,560,000; 335 bags of 50kg rice with DPV of N8,576,000;1090 pieces of 25 litres of vegetable oil with DPV of N10,191,500; and 200 rolls of rubber hose with DPV of N2,400,000 used to conceal the footwear, among other items.
Already, a suspect said to be a representative of the consignee has been detained while investigation to get all those connected to the criminality has started.
These were disclosed by the Customs Area Controller (CAC), FOU, Zone C, Comptroller Azarema Ahmed Abubakar, while addressing newsmen at the Government Warehouse in Abia/Imo Command.
While giving an insight into the seizures, the CAC said a roving team of FOU, Zone 'C' Owerri seized a container with number MRSU 3040288 found to be carrying military combat and camouflage along Aba-Port Harcourt Road.
Conducting an examination of the container with a representative of the owner of the container present, Azarema revealed that no fewer than 11 bales containing new sets of sewn military camouflage were found in the container.
He revealed that each bale contains 400 pairs of sewn military camouflage.
Other items found include 15 cartons containing Altama combat boots with each carton containing 20 pairs; 7 wooden furniture kitchen cabinets; 337 packs of new foreign tiles; 27 medical equipment; 34 rolls of water hose; and sacks of made up garment and some household items, amongst others.
A statement issued by unit and signed by its Public Relations Officer (PRO), Chioma Onuoha and made available to Maritime Bits quoted Azarema enjoining everyone to join in the fight against illegal trade in the country.
He stated that the unit will not relent in bringing smuggling to the barest minimum just as he called on the media and general public to support the fight and avail the service with useful information.
The Customs Chief advised that anyone embarking on importation or export should first ascertain the eligibility of such item.
He also implored traders, importers, agents and everyone involved in trade to embark on legal importation and ensure the appropriate payment of duties where applicable.
His words: "Where there is compliance we will rest. As long as there is no compliance, we will always be on our toes and you will see more seizures and arrests. The position of the law is to seize and condemn to act as a deterrence. We will do more to send across the message. We will not stop until the right thing is done."
While displaying some of the seized items concealed in a truck with empty crates of alcoholic beverage, Azarema enjoined smugglers to put their ingenuity to good use adding that the unit has a good information network that aids in the discharge of their duties.
On the issue of high duty rates as a reason for smuggling, the CAC explained that duty rates are a natural issue globally and high duty rate should not be an excuse to smuggle.
He advised that those concerned should go through the right channel and present their grievances to the federal government for redress, describing the government as listening and caring for its citizens.
"The policies of government are for the interest and benefit of the nation and adhering to such policies will bring about peace and prosperity to everyone. Those who do not declare and falsely concealed have already signified intent to defraud", he added.
The CAC reiterated his advice to smugglers to desist from smuggling even as he affirmed that the unit under his watch will not relapse in the discharge of its roles and responsibilities.