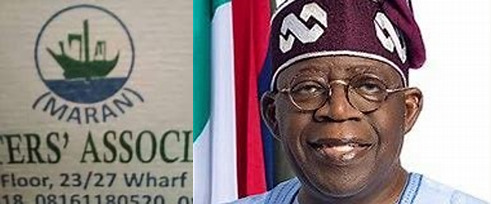 By Izuchukwu Ozoemena
As President Bola Ahmed Tinubu is set to constitute his cabinet, a call has been made by the Maritime Reporters' Association of Nigeria (MARAN) that he considers the uniqueness of the Ministry of Transportation and bring on-board only a professional to enable Nigeria gainfully harness its maritime sector potentials worth over $9 trillion.
MARAN President, Mr. Godfrey Bivbere who made the call in a press statement on behalf of the pioneer maritime reporters' body recently.
The call comes amidst growing suggestions for the reappointment of the immediate-past Minister of Transportation, Muazu Jaji Sambo, considering his professional pedigree and commendable performance within a short tenure in office.
Nigeria's maritime sector, Bivbere noted, holds immense potentials to transform the economic fortunes of the nation, create employment and guarantee higher revenue. This can only be achieved when a professional who is at home with the sector is at the helm.
"When we talk about the effective utilization of the Nigerian waterways for barging and river ports or transporting passengers to achieve a balanced transport system in Nigeria or we stress the significance of quick turnaround time for ships at Nigerian ports and speedy evacuation of cargoes from ports using multimodal approach, these issues have far-reaching effects positively and negatively that could be addressed only by a Transport Minister who is a maritime professional."
He emphasized that some of the major challenges hindering optimal performance of Nigerian ports including other aspects of shipping can be traced to leadership failures which result from the appointment of non-professionals.
He recalled that one of MARAN's key recommendations at her recent breakfast meeting on the deplorable state of ports infrastructure was that "technocrats and industry experts should be appointed to lead maritime agencies to ensure persistent development of the port sector driven by quality leadership."
The pioneer maritime reporters' body placed on record that within the last 8 months Sambo was at the helm, he made significant strides towards repositioning the nation's seaports, inland waterways, river ports as well as inland dry ports because of his professional background.
The former Minister, MARAN recalled, had over three decades work experience in the maritime sector, having begun his career at the Nigerian Ports Authority (NPA) before moving to the National Inland Waterways Authority (NIWA) where he rose to the position of General Manager before he retirement a few years ago.
While wishing President Tinubu an impactful administration, MARAN reassured the presidency of meaningful partnership and promised to prioritize solution-based journalism to tackle critical challenges plaguing the nation's maritime sector.