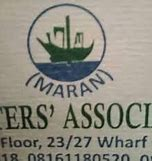 The Maritime Reporters Association of Nigeria (MARAN) felicitated with the President General, Maritime Workers Union of Nigeria (MWUN), Prince Adewale Adeyanju, on his election as the 1st Vice President of Nigeria Labour Congress (NLC) and Mr. Aminu Umar as the 7th President of the Nigerian Chamber of Shipping (NCS).
MARAN which remains the oldest and the umbrella body for journalists covering the maritime industry across the country also felicitated with Comptroller Mohammed Auwal, Comptroller Dera Nnadi and Comptroller Timi Bomodi on their appointments as the Customs Area Controllers (CAC) of Apapa Command, Seme Command and KLT Command respectively.
The association in a statement made available to Maritime Bits stated that the elections of both Adeyanju and Umar did not come to it as a surprise.
According to the statement which was signed by the its Acting President, Mr. Gboyega Oni and Secretary, Mrs. Pearl Ngwama stated that Adeyanju has distinguished himself as a man of the masses, particularly the maritime workers. Under him, Nigerian maritime workers have experienced and enjoyed improved working conditions and better wage/salary.
It added that serving at the national stage, the unionist will certainly bring to bear his wealth of experience as a labour man on the lives of Nigerian workers.
"We wish him well and the better for Nigerian workers", MARAN added.
In the same vein, MARAN said Umar is a round peg in a round hole even as it added: "As a seasoned shipping magnate and Managing Director of Sea Transport Group, Umar will definitely make a difference as the President of NCS because of his experience. We expect the Chamber to begin to come up with policies that will make meaningful impact on the industry".
On the appointment of the two senior NCS officers, MARAN said Auwal, Nnadi and Bomodi are fine officers who have distinguished themselves in the services of the Nigeria Customs Service.
It noted that the association has had a long-standing relationship with them particularly Comptrollers Nnadi and Bomodi who had served as Public Relations Officer of Apapa Customs Command and National Public Relations Officer of NCS.
Continuing, it said: "They are knowledgeable and competent. To us at MARAN, the service stands better as their experiences will manifest in the execution of its mandate of trade facilitation, revenue generation and suppression of smuggling. We wish them the best".