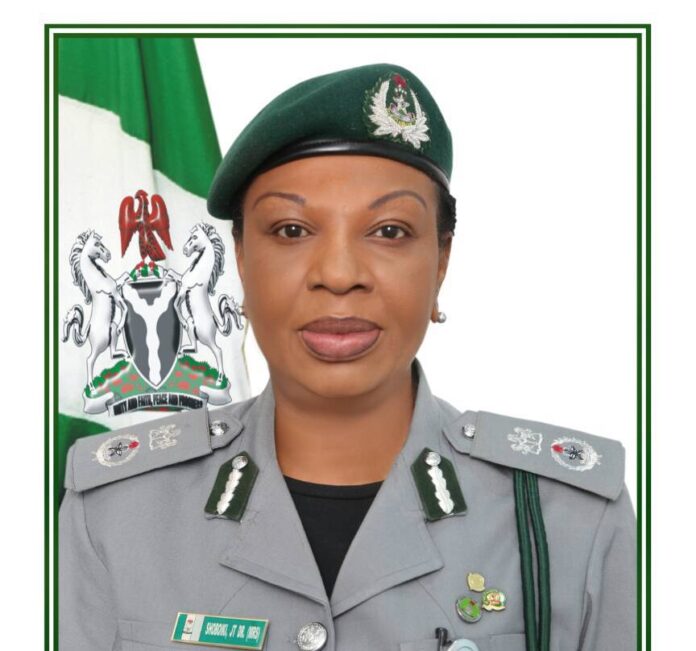 The vigilance of officers and men in the Nigeria Customs Service (NCS), Murtala Muhammed International Airport Area Command, Lagos, has paid off as they have intercepted and impounded a consignment of military hardware the consignee had intended to bring into the country undetected.
Though the details of the consignee and the licensed customs agent involved in the illegal consignment were not made public, there are speculations in some quarters that their importation may not be unconnected with preparations for the general election slated for February 2019.
The military hardware including bulletproof vests, camouflage uniforms, bulletproof jackets, military helmets, military face caps, military vest of different camouflage colours, air gun imported with two different end user certificates, were falsely declared by the importer.
Others are 20 pieces of optical sight wrapped in military camouflage uniform bags, mainly for rifles and grenade launchers, handcuffs, police officer cardigans and drones.
Also intercepted by officers and men of the command are 108 cartons of expired (2009) beef imported into the country, pangolin scales and pharmaceutical products known as tramadol tablets with no registration number from the National Agency for Food Drug, Administration and Control (NAFDAC), to be exported out of the country.
These were disclosed by the Customs Area Controller of the command, Comptroller Jayne Shoboiki, who pointed out that the military hardware imported into the country were intercepted at NAHCO shed of the airport.
Her words: "Economic saboteurs should desist from illicit trade and allow sanity in our economy, as we must continue to carry out our statutory mandate of enforcing government trade policies.
"The clearing agents should enlighten importers to desist from bringing into the country items that are absolutely prohibited. Military hardware are not to be imported by individuals, but must come into the country with an end user certificate", she said.
The CAC also expressed dismay at the seized expired beef imported into the country, saying such item poses serious health hazards to Nigerians.
Her words: "We have enough fresh beef in this country. I see no reason for importing not just beef but the expired one. The item which is under import prohibition list, schedule 3, item 2 of the Common External Tariff (CET), was abandoned. Effort made to arrest the consignee proved abortive, as the address mentioned does not exist."
On revenue generation, she revealed that the command collected ₦11.6 billion from January to March 2018.
According to her, the amount represents 74.34 percent of the envisaged revenue target in the first quarter of this year.