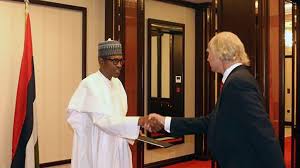 Norwegian Ambassador to Nigeria, Jen-Peter Kjemprud has said that the volume of trade between Norway and Nigeria is expanding over the years.
To this end, he disclosed that the embassy was working closely with the Nigeria-Norwegian Chamber of Commerce to promote and expand businesses between the two countries.
While pledging to strengthen the relationship between the two countries by attracting more investors from Norway to explore available opportunities in Nigeria, he also revealed that there are opportunities for Nigerians to do business in his country.
According to Kjemprud who spoke in Abuja, trade volume between Norway and Nigeria is projected to be between $30 billion and $40 billion. The volume of trade between the two countries is so difficult to say because most of the trade is being done with multinational companies, but we estimate it to be between $30 and $40 billion a year.
Describing between the two countries as "cordial", he disclosed that the relationship between Nigeria and Norway dated back to 1880s.
"Norway started to export fish to Nigeria in the1880s and 1890; the relationship was cordial until independence. However, from the last ten or 20 years, it has grown substantially both politically and economically. We now have more than 50 and 60 Norwegian companies active in Nigerian oil and gas sector, sub-sea, onshore, renewable energy and some of which is expanding", he said.
Continuing, the envoy said: "I think in the oil sector there could be more reciprocating in investment and cooperation. Only this week, there is going to be a huge investment contract in service sector to be signed in Nigeria with Singaporean and Norwegian companies".