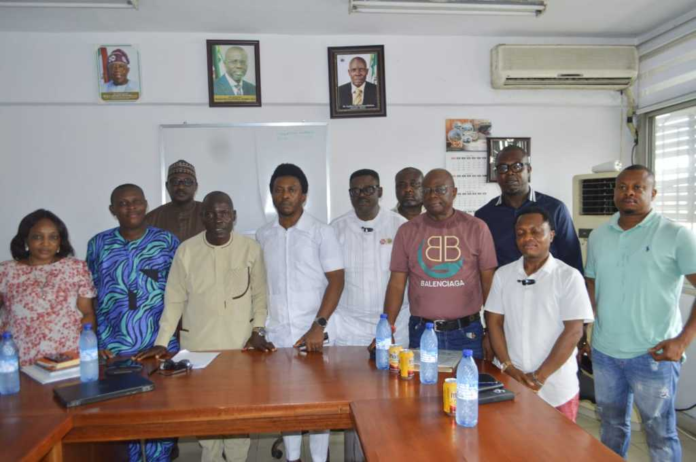 Port users, especially freight forwarders have kicked against any further increase in the charges of terminal operators and shipping companies in the country.
The freight forwarders under the auspices of Association of Concerned Freight Forwarders and Transporters who stormed the International Press Centre (IPC) situated at the secretariat of Maritime Reporters Association of Nigeria (MARAN), Apapa, Lagos recently vehemently opposed any form of increase in the charges of the terminal operator and shipping companies based on alleged approval by the management of the Nigerian Shippers Council (NSC).
They argued that the terminal operators and the shipping companies have no basis to increase their charges as they have been milking Nigerians dry over the years without commensurate provision of requisites facilities and equipment,
This is coming on the heels of the terminal operators writing a memo to port users that it was at the verge of increasing the charges on their services.
One of the terminal operators, Five Star Logistics had in a memo dated September 2023 and obtained by Maritime Bits, informed agents and receivers of the imminent increase in its charges.
The memo in parts said: "Due to current economic situation of our country, our operational expenses have increased exponentially as a result of inflationary pressure and naira devaluation. The need to drive for improved service delivery has necessitated an upward review in storage charges for all cargoes with effect from 15th October, 2023 as per below having obtained approval of relevant authorities. We greatly appreciate your cooperation and understanding. We are dedicated to bringing you the best services."
Though it granted three days free period after arrival, Container Standard – Import Full, for instance will start paying N5,670 for 20ft containers and N11,340 for 40ft containers from 4th to 8th day; N33,264 for 20ft containers and N66,528 for 40ft containers from 9th to 13th day while paying N53,550 for 20ft containers and N105,840 from the 14th day onwards.
The leaders of the group told journalist who gathered at the roundtable with members of MARAN that they frowned at the inability to consult and meet with the stakeholders, in this case, the freight forwarders and their principals, the importers before going ahead to announce this hike in storage charges.
The Vice Chairman of the association, Mr. Ndubuisi Uzoegbo faulted the attitude of the terminal operators who he accused of not consulting and taking into account, the opinion of the stakeholders before effecting increment in their charges describing it as disrespectful.
"They have not even tried to consult the practitioners, those that patronize them. All they do is go to bed, wake up and communicate a particular group of people and they will come up with new charges without talking to people who patronize them. I have never seen a place where someone commonize a customer. It can only happen here in Nigeria. The importers are not sort after. The agents who are the freight forwarders are also not consulted", he said.
Continuing, Uzoegbo said: "We are all practitioners. I can tell you vividly that we have done a lot of feasibility studies. What happens in this industry is of paramount concern to us. What are they increasing for? Some of their staff are complaining. Look at where we are conducting examination and so on. All the basic amenities we needed to work with have not been provided for us the customers. The customer is always a king in every business world.
"The harsh maltreatment given to us by the shipping companies and the terminal operators in Nigeria is becoming unbearable and it is no longer acceptable to us the practitioners. We are here to say no to them, in fact, we are calling for government to revoke their licenses and let NPA take back their port from AP Moller and the TICT and all these concessionaires.
"They should leave Nigeria. They don't add any economic value to Nigeria. They own no property in Nigeria and this money they are collecting from us, they will repatriate it back to their countries. If you like, show me their building, where have they invested in Nigeria. Look at our roads, they cannot come out and say let us give back to the society by making this road we are plying everyday to be motorable rather they are waiting for the President of Nigeria to come and do it for them while they are making billions of Naira in daily basis.
"Let me use APMT for example, if they decide to make three billion naira in two days, all they need to do is to create artificial congestion and for one week, you will not be able to load one container out of this port. Then, multiply it by the number of containers that are leaving the port on daily basis, you will find out that these guys are rippers. They have been ripping us dry. They are the worst economic saboteurs in this country and the federal government must do something about them."
Uzoegbo called on the National Assembly not to permit the renewal of the concession agreement the Federal Government through the Nigerian Ports Authority granted the terminal operators.
According to him, they are not adding value to the Nigerian economy. Let Nigeria take back her port so that things can go well here. Now they are proposing that on the 15th of this month, they are going to effect the increments. If Nigerians should pay that, in the next six months, nobody will be able to bring out his or her container out of this port and if that happens, it is going to affect all of us, not only we the freight forwarders.
Another member of the concerned freight forwarders who is also the President, Association of Customs Brokers, Dr. Basil Nwolisa disclosed that they had been engaging with the management of NSC over the issue.
He argued that the approval the terminal operators allegedly obtained from NSC for an upward review of the storage charges was given in error.
His words: "We will confront them with the laws of Nigeria on how to approve increments. Before the next 24 hours, we will be having a meeting with the leadership of the Nigerian Shippers' Council and we will tell them to their face that this increment will not stand because it was not increased with the interest of Nigerians at heart and any increment you are making even if it is in rent or whatever, you have to carry the people alone. So, it will not happen. Have you asked the Shippers' Council if they invited the stakeholders to a meeting before they approve the increment? Because that is what the law says."
The Secretary of the association, Sir Johnny Ubaka insisted that some of the delays witnessed at the port were caused by the terminal operators in order to extort Nigerians.
According to him, sometimes you will book for examination, they will not drop your containers for three days, who do we fight? You can even approach the white man and by the time you may not be able to clear your consignment in two weeks, you will be paying N105, 000 a day. How much are you making per container per import?
Continuing, he said: "Why we are saying this is because we are not just crying foul for nothing. Once your container enters third period, within five days, you are going to lose N500, 000 as the case may be, you might even forfeit that consignment. So, even if they have gotten approval, we are saying no to this because we are pained. We the Concerned Freight Forwarders are saying no to this. Let them engage us and let us know the ratio at which they are increasing their storage. The same thing goes to the Customs".