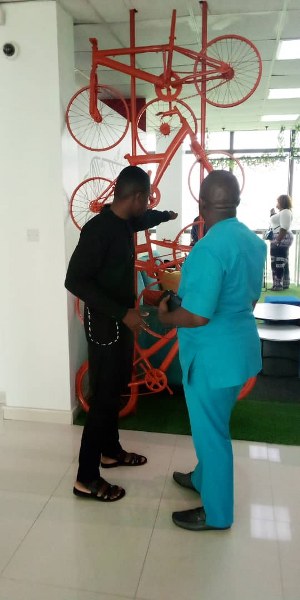 Bayelsa State Commissioner for Education, Hon. Gentle Emelah has hailed the strides made by the Bayelsa State Technological Centre, Yenagoa.
Emelah who stated this recently when he paid a working visit to the centre situated in the state capital gave kudos for the efforts made by the personnel in the facility.
He called for the provision of what he called "technological solutions" to the educational challenges facing the oil and gas rich state.
The commissioner who was amazed at what he saw at the facility expressed appreciation for the services being rendered by its personnel.
He charged the management of the facility to come up with technological innovations that could help foster solutions to the existing educational challenges in the state.
He also stressed the need for more ICT training for teachers in the state to enable them be in a vantage position to positively impact technology on their students.
While commending its management, he reiterated the readiness of the state government to collaborate with it to attain set goals and objectives.
The centre which is also called the Bayelsa Tech Hub is aimed at inspiring every aspect of the economy using technology.
It also has training in software development, digital marketing, technical skills, robotics, 3D printing and modeling among other innovative ventures.
The commissioner was received by the management of the centre led by its Manager, Mr. Asieri Odusi who took him round to see things for himself.
Odusi explained that the main aim of the hub was to make the average child in Bayelsa State to know what an average child in the People's Republic of China knows about technology.
Among the facilities that were shown to the commissioner and his entourage were some robots that were constructed by children who are already doing great in the robotic field.
Others were office spaces, relaxation spot, lecture room, Information Communication Technology (ICT) room, restaurant and board room.
The Manager of the Bayelsa Technology Centre used the occasion to present an education plan to the commissioner which he hope would lead to a partnership with government that would result in the implementation of policies and programmes that would move the education sector of the state forward in the years ahead.