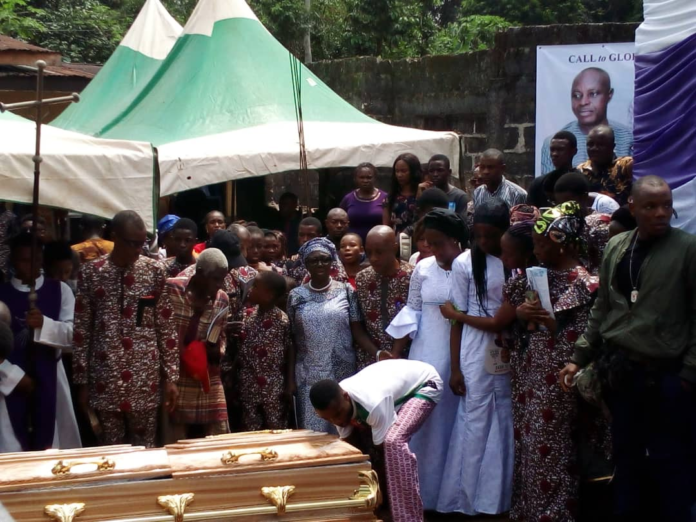 Amidst tears from members of his family, friends and close associates, the remains of the former President of the Maritime Reporters Association of Nigeria (MARAN), Mr. Ray Ugochukwu was laid to rest in his country home, Umuopara, Umuozu Ngugo, Ikeduru Local Government Area of Imo State.
Ugochukwu who was a three terms President of MARAN, was until his demise on May 31, 2023 the President of the Maritime Journalists Association of Nigeria (MAJAN), member, the Nigeria Union of Journalists (NUJ), former Chairman, Daily Times NUJ Chapel and co-author of the Maritime Under Democracy.
The veteran journalist whose name rings a bell in the maritime industry worked in several media houses. He died at the age of 64.
Before his remains were committed to mother earth, a funeral service was held in his honour at the St Luke's Anglican Church, Ngugo, in Ikeduru Local Government Area, Imo State.
The officiating minister, Reverend Canon Levi Onyemaobi in his sermon prayed that God gives deceased perfect peace and rest from all exertions of this life.
"May Almighty God our Father in Heaven who lifts all who die in the Lord receive our father Mr. Raymond Nlemchuckwu Ugochukwu in thy dwelling", the cleric prayed.
The clergy also prayed to God to grant his wife, children and relations fatherly care and comfort.
He lauded the late journalist lifestyle of commitment to God even in the Anglican Communion and urged all and sundry to emulate him.
Among several others who attended the funeral were the representatives of MARAN and MAJAN.
The NUJ, Lagos State Chapter sent a goodwill message a goodwill message to commemorate the demise of the veteran journalist who was survived by a wife, two children and brothers.
The son of the deceased, Mr. Prosper Ugochukwu in his tribute said: "Raymond was always a delight. Even at home with his siblings, nephews and nieces. He was not the type to hold grudges or engage in prolonged conflicts with others. He has a quiet disposition and preferred to handle his affairs in a composed and dignified manner".
According to him, he would always advise me that money was not everything. He would often stress the importance of establishing connections and considering money as a secondary factor.
In her good will message, the General Manager Corporate and Strategic Communications, Nigerian Ports Authority (NPA), Mrs. J.A. Moltok said: "As the President of the Maritime Reporters Association of Nigeria (MARAN), during which he was a staff of the Vanguard Newspaper, Ray Ugochukwu was very committed to the tenets and ethics of his profession which earned him great respect in the industry."