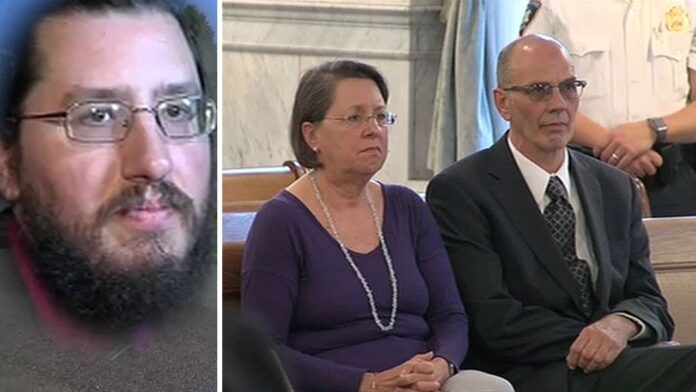 A 30-year-old man court-ordered to vacate his parents' home said he should be given more time to leave because of how much his parents "harassed" him about moving out.
Michael Rotondo, of Camillus, New York, United States of America (USA) had been living rent-free in his parents' Syracuse-area home for eight years when a State Supreme Court judge ruled in his parents' favour, ordering him to move out.
Rotondo, who plans to appeal the decision, said he stopped speaking to his parents when they "alluded" to wanting him to leave the house in October, just one month after he lost custody and visitation rights of his son.
"I'm not bothering them by living here," Michael Rotondo said in an interview with ABC News' "Good Morning America." "It's little to no cost to them, and considering how much they've harassed me, I think it's the least that they should be required to do, which is just let me hang here a bit longer and use their hot water and electricity."
By the end of October, Michael Rotondo said his parents were demanding he get a full-time job, health insurance and sessions with a therapist, but he said he "didn't need any of those things."
"My parents alluded to the fact that they no longer wanted me living in the house, and I was devastated from the loss, and not seeing my son anymore," Rotondo said. "After that, I was like, 'I'm done with you guys.'"
Mark and Christina Rotondo said they gave their son multiple notices to vacate and even offered him money to help him find a place of his own.
Michael Rotondo admitted that he accepted the money, but used it for "other things."
"I took it but with consideration for my plans, and how my finances interacted with those plans, I did use the money for other things, but I don't regret that," he said. "I would have preferred to have kept the money and given it back to them … but I had to use it, and that's just how it is."
He also accused his parents of trying to "stir something up" to support their court case against him.
"Me and my father recently tried to occupy the same space at the same time … so I said 'excuse me,' and he said, 'I will not excuse you, Michael,'" he said "He's just trying to stir something up so that he could get me to say something. It's my overwhelming belief that he's trying to make it so that he could try and call the police or something to support his case."
Michael Rotondo had asked for six months to vacate, but the judge disagreed.
He said he was shocked by the ruling and that he couldn't believe the judge would "make it so that these people can just throw me out instead of letting me stay here."
Michael Rotondo also addressed critics, including some in his own neighbourhood, who claim he wants to live rent-free forever.
"I don't like living here at all," he said. "My parents and I are like two parties that don't speak the same language."
"It's a very serious thing to me to get out, but I have rights, and that's really what it boils down to. I just want a little more time to get out of here."
Since Michael Rotondo's looking for employment, Villa Italian Kitchen, a chain of pizza stores with hundreds of locations nationwide, is offering him a job.
"At Villa, we feel for millennials, across the board," the company's COO, Andrew Steinberg, said in a statement. "It's tough out there. With that said … Michael, hey dude. We are offering you a store-level gig, complete with extensive training to get you up to speed, at any one of our 250 locations worldwide. We heard your parents offered you $1,100 to get out. We'll do you one better. Literally one. Offer from us is on the table for $1,101 to come join our team. Consider it a signing bonus".
Culled from Yahoo News