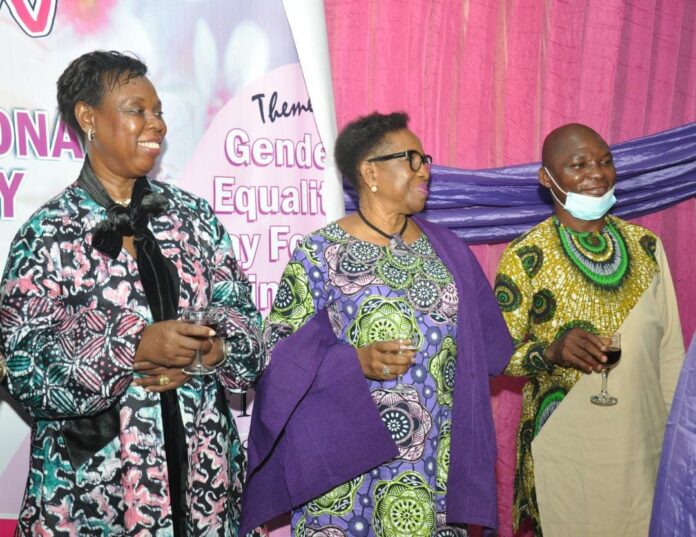 Women have started drumming support for an initiative to address the key issues plaguing them in the country.
To this end, they have mooted the idea of having a think tank group to study and tackle the factors responsible for gender imbalance over the years.
They averred that this initiative will address the fundamental issues responsible for gender disparity in the country thereby giving them a sense of belonging.
A press statement from the organisers which was made available to Maritime Bits said the idea of the think tank came up at the 2022 International Women's Day celebration organized by MMS Woman of Fortune Hall of Fame (WoFHoF) Initiative in Lagos recently.
The Chief Executive Officer (CEO), African Marine Environment Sustainability Initiative (AFMESI), Dr. Felicia Mogo stated this in a paper she presented at the occasion.
While suggesting that policies which enhanced gender balance in other countries should be adopted in the country she enjoined the federal government as well as various state governments to address security challenges plaguing the nation.
She argued that women have been more affected by the increase in kidnappings, robberies and other violent activities across the country.
Her words: "As an outcome from this MMS WoFHoF event or from the Ministry of Women Affairs, there should be a holistic study of the root causes of gender inequality in Nigeria. These findings should be documented and published. There is also a need to agree on a particular benchmark to be attained for gender balance. We can copy from the successful strategies by countries that are doing well in this regard."
Mogo who spoke on the topic: "Gender Equality: Puncturing the Stereotypes Today for a Sustainable Tomorrow", expressed dissatisfaction that the high level of participation by women across various sectors hasn't translated to significant growth in leadership cadre.
She emphasized that data collection is very important in appraising the development of women participation across various aspects of the nation's economy and in governance.
The Chief Host and CEO, Lelook Nigeria Limited, Mrs. Chinwe Ezenwa in hr welcome address asserted that Nigerian women still have a long way to go with regards fighting for their rights in the country.
Ezenwa who was before her foray into business was a Director in the Federal Ministry of Transportation expressed delight that several women in the maritime sector visited the National Assembly in Abuja to mark the 2022 IWD celebration and kick against the refusal of the lawmakers to give nod to gender sensitive bills.
Her words: "I'm very happy that we are here to celebrate women who have broken the bias in their respective fields as well as those who are working assiduously to break the bias. As we celebrate, it is important that we really understand this bias before exploring strategies to break it. We have a worthy speaker to tell us more about this bias".
The Founder of MMS WoFHoF Initiative, Mr. Kingsley Anaroke in his welcome address stated that the Initiative lends its voice against this gross insensitivity of some of the legislators for gender-related causes.
"We demand the immediate passage of all women-related bills at the National Assembly. While we commend the leadership of the House of Representatives for rescinding their earlier position on the bills, we call on both chambers to revisit the rejected bills and give them accelerated treatment."
"Unless this is done, we shall join our leaders to seek the mobilization of Nigerian women to adopt a posture of "NO Gender Bills: NO Vote For Male Candidates" in 2023 general elections and subsequent ones. Why is it difficult to create special seats for women in the national and state houses of assembly? Why the age-long lip-service for the support for 35% women participation in elective and appointive positions in Nigeria?
"Why should lawmakers support the floating of women by denial of indigene-ship? A married woman is denied rights in her husband's place and place of birth on the ground that she has been married out. Why should a reasonable man vote against citizenship by registration? A woman cannot give her foreign husband Nigerian citizenship today. All these bias against female gender are rooted in male chauvinism and not African cultures or traditions," he said.
The former Continental President of WIMAFRICA, Mrs. Jean-Chiazor Anishere (SAN), in her remarks described the action of the National Assembly to disapprove gender bills on March 1, 2022 as a gross display of bias.
Her words: "As part of bias and Gender Inequality, on the 1st day of International Women's Month, Nigeria's 9th National Assembly of 95.0% men voted against the following constitutional amendments: The right for a Nigerian Woman to grant her foreign- born husband Nigerian citizenship. Yet, a Nigerian man's foreign born wife gets automatic citizenship.
"The right for Nigerians in the diaspora to vote during national elections in spite of their much favoured remitted $9.6BN (2021). The right for a woman to take indigene ship of her husband's State after 5 years of marriage. The 35% affirmative action for women in party administration and leadership. Specific seats to be allocated for women in the National Assembly."
The event also featured the celebration of eight women identified as 2022 IWD Amazons by the MMS WoFHoF Initiative. They include: the Managing Director of Multimix Academy, Mrs. Oluchi Okafor; Managing Partner of Hudson Gee Nigeria Limited, Barrister Gloria Kanabe; Lagos Area Manager, National Inland Waterways Authority (NIWA), Engr. Sarat Braimah; Deputy Director, Nigerian Shippers' Council (NSC), Mrs. Margaret Ogbonnah.
Also honoured are the Zonal Public Relations Officer, Zone A Customs headquarters, Nkeiru Nwala; Assistant Director, Public Relations, Nigerian Maritime Administration and Safety Agency (NIMASA), Shielibe Abe; Head of Corporate and Strategic Communications at the Lagos Ports Complex, Nigerian Ports Authority (NPA), Arit Nwokedi and the Executive Secretary of MMS WoFHoF Initiative, Mrs. Ifeoma Iloh.