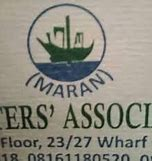 Stakeholders in the maritime sector of the economy have joined forces to celebrate the 34th anniversary of the establishment of the umbrella body of maritime journalists in the country, the Maritime Reporters Association of Nigeria (MARAN).
In the same vein, awards will be conferred on deserving individuals and organizations who have contributed their quota to the development of the maritime industry over the years.
Besides the Minister of Transportation, Mr. Muazu Jaji Sambo who has confirmed that he will grace the occasion, many other stakeholders in the maritime industry have also expressed their readiness to attend it.
The former Director-General of the Nigerian Maritime Administration and Safety Agency (NIMASA), Dr. Ade Dosumu is expected to chair the event which has been tagged a "Night of Glory".
The Chairman of Integrated Oil and Gas, Captain Emmanuel Iheanacho; the Chairman of Sifax Group, Dr. Taiwo Afolabi; former National President, Association of Nigerian Licensed Customs Agents (ANLCA), Prince Olayiwola Shittu; and the Comptroller General of Nigeria Customs Service, Colonel Hameed Ali (retired) are also expected to attend the occasion.
Others are the Chairman, National Drug Law Enforcement Agency (NDLEA), General Buba Marwa; the Iyalaje Kano, Hajia Bola Muse; and Lagos base legal practitioner, Mrs. Jean Chiazor Anishere, SAN.
The celebration which will take place on Friday December 9, 2022 in Nigeria's commercial nerve centre, Lagos will also feature the presentation of awards to selected key players in the maritime industry and beyond.
It will also feature a lecture entitled; "16-Years of Port Concession: The Pains and the Gains"by erudite resource persons from far and near.
These were contained in a statement issued by the Chairman Planning Committee, Mr. Dapo Olawuni, and made available to Maritime Bits.
According to the statement, the lecture which would be an expose of port Concession in the country entails the presentation of a lead paper by immediate past Executive Secretary of the Nigerian Shippers Council (NSC), Mr. Hassan Bello. The paper is expected to evaluate how far government has exploited and harness the potentials of the existing port infrastructures and examine the emerging opportunities posed by new ports for the good of the Nigerian economy.
Continuing, he stated that Bello's paper will be discussed by experts in the maritime industry such as the Managing Director of the Nigerian Ports Authority (NPA), Mr. Muhammed Bello-Koko; maritime lawyer, Mrs. Jean-Chiazor Anisheri, SAN; the Managing Director Truck Transit Park, Mr. Kama Onwubuariri and the Registrar NAGAFF Academy, Mr. Francis Omotosho.
He noted that it was not impossible that the paper discussion could draw the attention of the Federal Government on the need to review the port concession era, and to examine the opportunities posed by the building of new ports, especially the much celebrated Lekki Deep Seaport.
Maritime Bits had reported that MARAN Awards holds once in a decade. The last edition was held in December 2012.