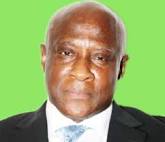 John Iwori
The promoter of the Tomaro Industrial Park Complex, Captain Emmanuel Ihenacho has enumerated its benefits to Nigeria and Nigerians as the construction of the project enters the crucial stage.
Already, the Federal Government has granted a Free Trade Zone (FTZ) status to the complex thereby boosting its capacity to generate huge revenue and employment opportunities for the citizenry.
The FTZ is on 75 hectares of land between Snake Island and the Lagos Deep Offshore Logistics Base Limited (LADOL), Apapa, Lagos.
As part of the efforts to ensure the industrialization of the nation's economy, President Muhammadu Buhari had in 2017 officially announced Tomaro Industrial Park as a FTZ.
Managing Director of the Nigerian Export Processing Zones Authority (NEPZA), Hon. Emmanuel Jime while announcing the President's approval said it was the way forward to boost the nation's economy.
Jime also revealed that a number of incentives to have businesses sited in the FTZ even as he added: "We want to make Nigeria an attractive and preferred destination for business. And the mandate of NEPZA is to create an enabling environment for businesses so that they can find Nigeria a sure destination".
Ihenacho, a master mariner and erstwhile Minister of Interior stated this recently while taking officers of the Nigeria Customs Service (NCS) led by Mr. Darki Hadia Yakubu round the facility.
He disclosed that no fewer than 2,000 direct jobs would be created on completion of the complex which is expected to change the fortunes of the host communities and beyond.
The master mariner who is presently the Chairman, Integrated Oil and Gas Company Limited stated that the projects earmarked for the complex were carefully selected to add value to the country especially in the industrialization of the economy.
Estimated to cost $450 million, Iheanacho said very soon some of the projects earmarked for the complex would be formally unveiled for the benefit of the citizenry.
The attractions of the complex include the fact that a lot of investors, local and foreign have shown interest in it; the level of seriousness demonstrated by investors; the $800,000 grant received from the United State Government through the USTDA; and its unique location.
According to him, the USTDA grant was expected to finance a detail analysis of supporting technologies and engineering for the implementation of the 20,000bpd crude oil refinery.