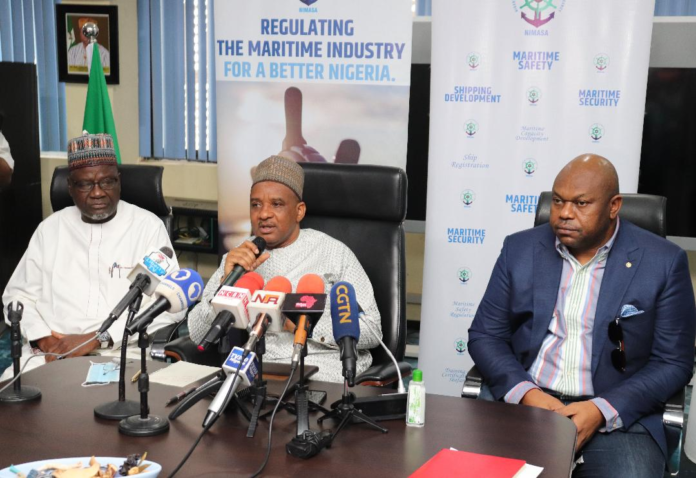 *Incentives for Nigerian Ship Owners Underway
No fewer than 1,164 vessels were inspected and surveyed in 2021 under it Flag State Control (FSC) and Port State Control (PSC) as against 786 in 2020, the Director General, Nigerian Maritime Administration and Safety Agency (NIMASA) Dr. Bashir Jamoh has said.
The FSC and PSC roles and responsibilities of the agency are under the auspices of its maritime safety mandate. While FSC entail the inspection and survey of vessels registered under it and flying the Nigerian flag, the PSC involves the inspection of foreign vessels that are not registered under its flag for the purpose of seaworthiness and compliance with local and international guidelines.
Similarly, the agency which remains Nigeria's designated authority in the maritime industry also recorded an increase of 32.4 percent in the level of its FSC and PSC activities in 2021 compared to that of 2020.
The agency made these strides despite the disruption of the world economy due to the negative impact of the COVID-19 global pandemic
It is on record that Nigeria has a fair share of the pandemic as shipping was negatively impacted by the pandemic in the country.
Jamoh made the disclosures at the weekend in a parley with reporters covering the maritime industry at its corporate headquarters, Burma Road, Apapa, Lagos.
He also revealed that not less than 489 vessels were inspected by the agency in 2021 as against 276 in 2020 under its FSC while it boarded 675 ships in line with its PSC functions in 2021 compared to 510 in 2020.
A further breakdown of the vessels inspected in 2021 under its FSC showed that 26 vessels were inspected in January, 19 in February, 29 in March, 24 in April, 32 May, 75 in June , 74 in July, 44 in August, 34 in September, 50 in October, 43 in November and 49 in December.
On NIMASA's activities in the area of PSC in 2021, he gave the breakdown as 43 vessels in January, 40 in February, 70 in March , 75 in April, 61 in May, 50 in June, 53 in July,60 in August, 68 in September,56 in Oct, 50 in November and 42 in December.
While enumerating his achievements in the last one year, especially in the of maritime security, shipping development, capacity building, seafarers certification and ship registration, the NIMASA helmsman also spoke on search and rescue, the National Seafarers Development Programme (NSDP), cabotage, proposed disbursement of the cabotage vessel finance fund(CVFF) and the deep blue project.
Jamoh also disclosed that the Federal Government has finalized plans to provide fiscal incentives and monetary palliatives to indigenous ship owners.
The fiscal incentives includes reduction in import duty for vessels with zero duty approved for new vessels while minimal single digit duty rates arranged for vessels aged 1 to 5 years.
Continuing, Jamoh said: "Under shipping promotion, NIMASA got some concession to boost indigenous shipping. We applied for monetary and fiscal incentives. The fiscal incentive is under the Federal Ministry of Finance while the monetary incentive has to come through the Central Bank of Nigeria (CBN). We are yet to conclude the process for the monetary incentives.
"For the first time in this industry, we have reached fiscal incentives where there is going to be a drastic reduction of Customs duty to be paid on imported vessels and this has been approved. If you are importing a brand new vessel, you'll pay zero duty. Vessels aged 1-2years has a minimal customs duty rate of 1% to 2% and we continue to graduate it against the age of the vessel."
According to him, the decision to introduce zero duty on new vessels is to encourage indigenous ship owners to procure brand new vessels and ensure that the nation no longer has rickety rusty buckets on its territorial waters that cause accidents and are later abandoned and dumped as wrecks.He used the occasion to maintain that there was no iota of conflict between the provisions of the Cabotage Act and the Suppression of Piracy and Other Maritime Offences (SPOMO) Act.