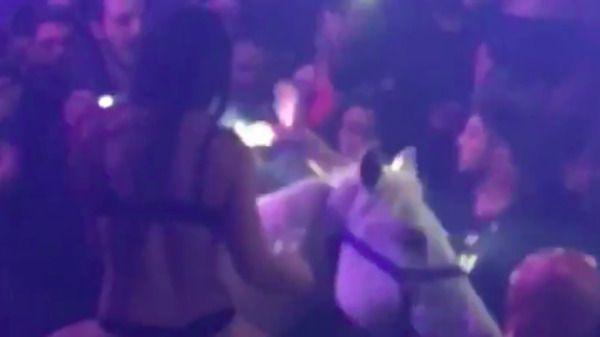 The city of Miami Beach, United States of America (USA) has shut down a nightclub after video surfaced showing a woman in a bikini riding a spooked horse into a crowd of people.
The incident happened at the Mokai Lounge sometime between Wednesday evening and the early morning hours of Thursday, according to a city document obtained by HuffPost.
Attendees at the event recorded the commotion and posted footage to social media. One video showed a man trying to pull the seemingly resistant horse into the club as a man and woman ride on top of the animal. A second video shows the woman on the horse amid a tightly packed crowd of people. The horse throws the woman off before slowly walking through the crowd as people cheer.
City Manager Jimmy Morales revoked the club's business license on Friday, The Miami Herald reports. A city press release cites the incident as being a hazard to public safety and possible animal cruelty.
The woman seen in the video "appeared to be an employee from the club, but that's still under investigation," Miami Beach spokeswoman Melissa Berthier told HuffPost.
The Miami Beach Police tweeted on Friday that authorities had found the horse seen in the video and that it was "deemed to be healthy and safe."
At a press conference, Mayor of Miami Beach Dan Gelber said what happened "could only be described as insane stupidity and irresponsibility," according to Buzzfeed. He added that the Mokai Lounge will be subject to an animal cruelty investigation.
Source: HuffPost.