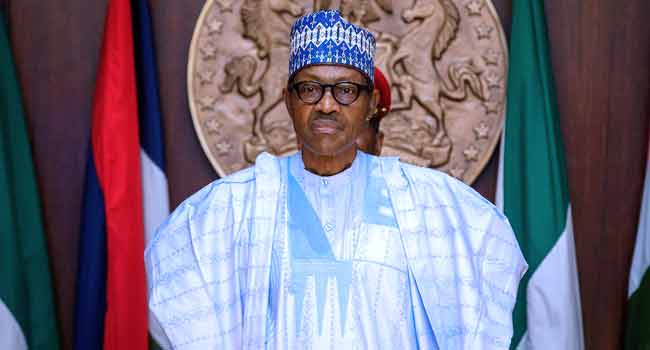 The recognition of the Social Democratic Party (SDP) presidential candidate in the 1993 presidential election, Chief Moshood Kashimawo Olawale Abiola by the Federal Government has been described as a victory for democracy.
President Mohammadu Buhari had earlier this month honoured Abiola with a post hummus award. He followed it up with the investiture of the awardee in an impressive ceremony where he tendered a national apology to his family for the annulment of the June 12, 1993 presidential election which was adjudged to have been won by Abiola.
He gave the apologies as he performed the investiture of national honours on Abiola and his running mate, Ambassador Babagana Kingibe.
Buhari also tendered national apologies to all those who struggled for the actualisation of the election, including journalists, politicians and all other stakeholders.
The President personally presented the awards to Abiola's first son, Mr. Kola Abiola; the wife of late Chief Gani Fawehinmi, Mrs. Ganiat Fawehinmi; and Kingibe.
A Lagos base maritime expert Prince Olusegun Ologbese in a statement made available to Maritime Bits said the recognition of the late business mogul as well as June 12 as a public holiday was a victory for democracy.
According to Ologbese who is also the Managing Director and chief executive officer (CEO) of Ogbese Marine Services Limited, President Buhari decision to hour Abiola was not only courageous but also worth celebrating. Recognising June 12 as "Nigeria's Democracy Day" was commendable. It is a victory for democracy, Nigeria and Nigerians.
The maritime expert popularly called Alaye however enjoined Mr. President to take a step further by righting all the wrongs in the past even as he pointed out that it is by so doing that Nigeria will witness what he called "unprecedented sustainable development" in all facets.
His words: "I want Mr. President to complete this good gesture by courageously righting all the wrongs in the past. He should address the wrong doings and bad behaviour militating against good governance in the country. Having done this noble action, he needs to address other problems which we need to correct so that peace can reign in the land. This is the only sure way there would be unprecedented sustainable development and progress which are some of the key ingredients of democracy".
He prayed that the almighty God who touched the heart of Mr. President to take the wonderful action which made nearly all Nigerians and the entire world to be happy to touch him again and give him power to be a true reformer.
"Nigeria really need reformation where the rule of law is respected. Every region need to have a sense of belonging in the country. They should be treated equally so we can all have understanding and unity of purpose in our common heritage", he said.
He enjoined President Buhari to shun the sycophants around him so that he can actualise what he set to achieve for Nigeria and Nigerians in his government.
According to him, these sycophants were not there when he was gunning for the number one seat in 2015. They did not disturb the work of God in putting him into power. He should be careful not to overheat the polity by his actions and inactions as the date for the 2019 presidential election gets nearer and nearer.