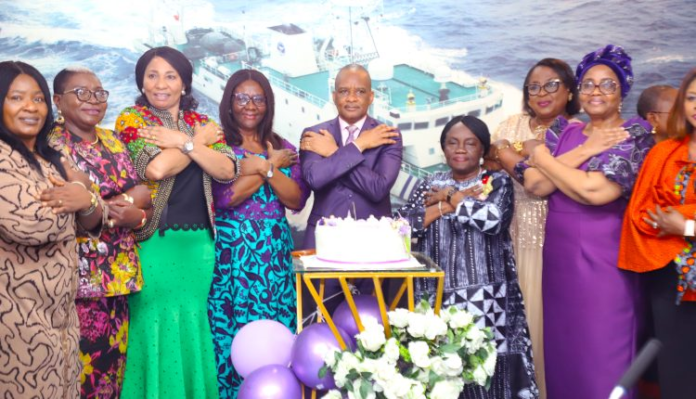 The Director General of Nigerian Maritime Administration and Safety Agency (NIMASA) Dr. Bashir Jamoh has tasked women in the Nigerian maritime industry to take full advantage of the huge potentials in it to be better women.
The United Nations (UN) theme for the 2023 International Women Day (IWD) is "Digital Innovation and Technology for Gender Equality"
Jamoh who stated this at the celebration of the IWD 2023 which took place at the agency's headquarters in Apapa Lagos noted that gender equality is non-negotiable, as it ensures increase productivity and economic growth.
Expressing dismay that there is still a gender imbalance in the maritime industry as only two percent of women are onboard vessels, Jamoh enjoined Nigerian women to take advantage of various opportunities in the maritime industry including the Cabotage Vessel Financing Fund (CVFF), ship ownership, jetty ownership, among others
His words: "At NIMASA, we can level the playing field and we are doing that, we have made sure that our women are not push overs. Today, there are not less than 10 female Directors and head of units in NIMASA. Women must empower themselves through collaboration and support for one another, and take full advantage of the opportunities within the sector. Take for example, the Cabotage Vessel Financing Fund (CVFF) where we have so many men today struggling to be part of the few resources given us and to appropriate portions of it to themselves, women can equally be part of the ship owners by venturing into the issue of the CVFF.
"Women should not be shy to explore participation in major projects in the maritime industry like establishment of jetties, purchase of vessels and other associated services related to the industry. As for the NIMASA women, I want to use this opportunity to assure you of management commitment to your career growth and development.
We want our women to excel in their careers and use technology to advance the maritime sector."
The NIMASA helmsman charged the head of training to come with various capacity building recommendations, tailored towards helping the women in other areas and field within the limit of the agency's resources.
"NIMASA has gone far in creating a level playing ground for women. The agency is very sensitive about gender balancing in sending cadets to trainings abroad. I would like to state that from today, NIMASA would ensure that whatever number we are sending on international long term training, women must have not less than two slots minimum. On the issue of NSDP scholarship, we would never dare send NSDP students without taking consideration of one quarter of women into the sponsorship programme", he said.
As part of the activities lined to commemorate the IWD, a paper titled "Women Embracing Technology in the 21st Century", was delivered by NIMASA Director of Internal Audit, Mrs. Olamide Odusanya
She averred that there are billions of girls who are waiting to change the world but they need access to proper education and opportunities.
Odusanya enjoined women in the industry to embrace technology in all they do in the workplace, even as she called on the management of NIMASA to embrace technology by automating its administrative and operational processes.
The Director also called on the agency's management to think of allowing flexible working condition that allows workers including male and female to work from home rather than spent quality man-hour on traffic congestion.
The President of Women's International Shipping and Trading Association (WISTA Nigeria), Mrs. Eunice Ezeoke had earlier in her speech called for innovative solutions to help women and girls to establish and become enterpreneurs and agents of positive change for resilient, sustainable, inclusive development.
Ezeoke who was hitherto a Port Manager in Nigerian Ports Authority (NPA) stated that the strategic development of women and girls is key to ending child marriages and other negative vices, biases and stereotypes in the society.
Erstwhile NIMASA Director, Special Duties, Hajia Lami Tumaka in her remarks virtually, stressed the need to embrace equality that can only be achievable through training and retraining of women and creation of gender policies just as she called for inclusiveness for women.
According to her, what a man can do, a woman can do better. What we ask for is inclusiveness, I am happy that the Director General of NIMASA has created an environment of inclusiveness for the women. What do we want to see or do with this inclusiveness? We want to see more women in leadership positions and politics, like I always say, it would not just be given to you freely, we have to grab it and be part of them.
The President of Women in Maritime (WIMA Nigeria) Mrs. Rollens Mcfoy in her remarks urged women to strive harder to work up the ladder.
Her words: "In anything you do, try to be the best. Be studios, be eager to learn, be humble and come out with a good professional attitude and integrity. Without this, you cannot excel. We need to work up the ladder."
The Secretary General of African Ship owners Association, Mrs. Funmi Folorunsho, commended Jamoh for ensuring promotion of four female Directors in NIMASA just as she also encouraged him to groom new faces to take over from the older women who are aging.
"The world is no longer analogue. Let us embrace technology. It is not until documents are sent hardcopy to NIMASA before it can be treated. If the present women do not do the right thing, the door will close against women in maritime industry in future. We must mentor younger women," she added.
The Chairman of Morbod Group, Mrs. Margaret Orakwusi in her remarks also commended Jamoh for supporting women in the maritime sector, especially as it concerns individual and collective projects.
She called for the creation of what she tagged "NIMASA Mentor Day" to encourage the young professionals coming up in the maritime industry whether they are male or female.
The Founder, Ocean Ambassadors Foundation (OAF), Hon. Violet Williams; Founder, African Marine Environment Sustainability Initiative (AFMESI), Dr. Felicia Mogo, among others also spoke at the occasion.